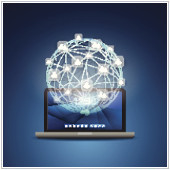 You've heard of Cloud Computing and Virtualization, but you're not sure which is best for your business. In fact you're not even sure what the difference is between the two. If either of these thoughts have crossed your mind, then it's time to get educated and learn how these modern technologies can boost your business. And more importantly, learn which one is better suited to your organization's immediate future.
The difference between Cloud Computing and Virtualization
To understand which technology you need, you first need to understand the role of that technology in your business.
Virtualization is basically using virtual hardware or software stored off-site, instead of the actual physical asset being in your office. A common asset many organizations choose to virtualize is a server. So if you're thinking about buying a new server, you may want to consider investing in a virtual one instead. The advantage of this is that you'll free up office space and save money on the upfront expense of an in-house server as well as its maintenance costs.
Cloud Computing, on the other hand, is not about individual assets, but instead is an operational model. Your business will run through the Cloud, where employees can create documents, interact with each other and customers, and even store files and data. The main advantage of the Cloud is that it increases operational efficiency and boosts organizational productivity.
Arguments for virtualizing
If you're considering either the Cloud or Virtualization and have done neither, it makes sense to think about Virtualization first. With both Virtualization and the Cloud, you're essentially changing the architecture of your business – from physical to virtual. Virtualization, however, is a small change, while Cloud Computing is a more dramatic one. If you opt for going all in with the Cloud right away, it may be a bit mind jarring for some of your staff as they get used to the new technology. And this could slow down their productivity. Virtualizing a few technology assets, instead of your entire workflow system, is an easier way to get a grasp of working with virtual technology for the first time.
A more fundamental reason to choose Virtualization is that you're just looking to create more office space. In this case Virtualization is a no-brainer.
Arguments for the Cloud
If your organization gets to the point of needing to add virtualized machines or servers quickly, the Cloud can automate this process. However, your IT department must be ready and willing to hand this process over to your end users.
Also, if your organization has been using virtualized machines for some time or is simply ready to overhaul its workflow and operational process altogether, then the Cloud is likely a better fit for your business.
Which is the best choice for your business?
What it comes down to is operational efficiency (Cloud Computing) or saving money and space on individual assets (Virtualization). What's more important to you?
And do you have a progressive organization and staff that are ready to adapt to using virtual technologies? If not, then Virtualization may be the initial step you need to start changing your organization's infrastructure to compete in the modern business world.
Want to learn more about Virtualization and Cloud Computing? Contact us today.