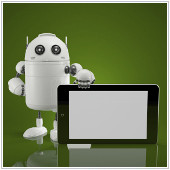 What if you could be in two places at once? On that beach chair in the Bahamas and at an office meeting in Indiana simultaneously? Sound too good to be true? Maybe not. Telepresence robots are making this scenario more likely than you think. And with the power of the Android tablet, the future may be just around the corner. Here's an inside look at a new technology that could revolutionize the way you work by allowing you to attend meetings while taking care of grandma.
What is a telepresence robot?
A telepresence robot is a remote controlled mechanism that acts as a robot when you can't physically be somewhere in person. It uses a video enabled device that allows you to see and be seen, giving you a physical presence while you're somewhere else in the world.
The telepresence robot that pairs with Android is not the first of its kind on the market. Both iRobot and Double Robotics have wheeled versions that were released in the past few years. The latter pairs with the iPad and navigates its environment using a segway.
What's the deal with the Android version?
The Android tablet version that couples with the telepresence robot is called Origibot and is currently being crowdfunded on Indiegogo. Yes, that means there is a chance it may not see the light of day but, after raising 30% of its $18,000 goal in just three days (and with another 38 to go), people are clearly excited about the tech behind it.
The Origibot is roughly 29.5 inches high, made from both aluminum and stainless steel. It has wheels so that it can move around. And it comes with an optional arm and gripper. According to its creators, the Origibot can fill your pet's bowl with water, carry drinks, water your plants and even bring Grandma her meds!
From a business perspective, an Origibot can take your place at the office if you're a telecommuter. Then you'll literally have a physical presence for meetings while you're at home on your sofa or taking care of another matter.
How does it work?
Simply attach your Android tablet to the Origibot. Your tablet then connects with another Internet-enabled device that you control, through the company's secure Cloud service.
Your connected device acts as a remote control for the Origibot, while the tablet allows you to see and hear what is happening in the space your Origibot occupies.
The advantages of Origibot
There are other telepresence robot options available. But what makes Origibot different is its price. If you pledge in advance on Indiegogo, you can get an Origibot from anywhere between $329 and $599. Once it hits retail, that price is projected to rise to $499-$899.
Compared to its competitors, this is extremely affordable – iRobot and Double Robotics both cost over $2,000.
The other difference is its size. The metal bar of the Origibot's body is just a few inches in diameter and the wheeled base is 12.5 by 14 inches. This will make it easy to get through narrow places or maneuver around people. Perfect for serving drinks at that cocktail party you're out of town for.
Want to learn more about the possibilities of the Android tablet? Contact us today.