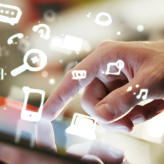 Does figuring out how to grow a social media audience for your business leave you scratching your head? Do you wonder if it even matters if you have a social media presence in the first place? If you're asking yourself these questions, then look no further. Here's why social media is important, along with some key tips that will grow your audience and get your business the attention it deserves.
Why social media is a must for marketing your small and medium business
Social media is at the forefront of the "soft sell" revolution. In fact, social media advertising can sometimes be such a soft sell that, when you're on the receiving end, you may not even know you're being sold anything in the first place. For example, you may have a friend who posts fun articles from their blog or pictures of their artwork (that they actually make a profit from) on Facebook. You may enjoy their content so much that you decide to share it and pass it along to friends and family. Know what you just did? You just became a marketer for their business. That simple share may just have garnered them a new customer and more profits.
This is why it's an absolute must to carve out your piece of the pie in social media. You'll grow your fanbase, and potentially create a following of loyal supporters who are happy to market your business – some of whom won't even be aware they're doing it. Here are a couple of tips on how to grow your social media audience.
Publish content
Every piece of content you publish is an advertisement for your business, regardless of whether you're directly selling a product or sharing fun information. Not only that, but if you publish valuable content often, your readers will know you're a reliable go-to source for information on your topic. That leads to a good reputation, people spreading the word about you and, consequently, referrals. You'll grow your fanbase and online presence simultaneously.
Be human, be genuine
Trust is key. To become a player in social media, your audience needs to trust you. And if you want long term success in social media, that trust needs to be genuine. People can smell a faker, even over the Internet.
So be human and genuine with your customer interaction and published content on social media. If you do, you'll develop a fan base that truly loves you and will be spread the word about your business without being prompted.
Think about it, how many times have you recommended a business that you love to one of your friends or family? When you did this, you didn't believe you were marketing someone's brand, but helping your friend or family member out. You wouldn't have done this if you didn't trust this business or believe their product or solution to be genuine.
Give back
To take the point above a step further, why not do a community service project in your local city or town? This gives you an opportunity to document the experience on social media. As mentioned above, this content is free advertising. And if you do something that is unique and genuinely helps your community, people are likely going to share it – growing your fan base in the process. In the end not only do you win, but also your fans and community.
Want more social media tips to help you garner an outstanding online reputation? Get in touch and see how we can assist.