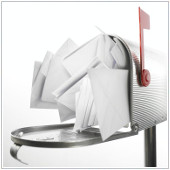 Cyber threats, rising healthcare costs and overloaded inboxes. These are some of the problems of modern life. Thankfully, Office 365 now has a solution for the latter. If your inbox is bursting to the brim with social media alerts and junk mail from newsletters you don't remember signing up for, now you'll have one less problem to worry about. Learn how Office 365's new Clutter feature can bring order back to your inbox.
The problem with today's email spam filtering
In everyday life, we're faced with some issues that are of major importance, others minor, and many completely insignificant. Our email inboxes are no different. Some mails need to be attended to immediately, others can wait awhile, and some we never want to see at all.
But in our current email landscape, there is no gray area. A message either goes to your spam folder or to your inbox. Wouldn't it be great if there was some sort of middle way? This is where Office 365's new Clutter feature comes into play.
How Clutter works
Clutter works by creating a folder for your emails that are of 'minor' importance. This folder is aptly named Clutter, and it works in essentially the same way as your junk folder.
How does it know which emails to put in the Clutter folder? The feature monitors your inbox behavior and then accordingly determines which folder to put an email. For example, if there are specific senders you always reply to immediately, perhaps several times a day, then those messages are clearly important to you. However, if you're receiving emails from a company and deleting them without opening, then that also says something about the importance of messages from that sender. Clutter works by tracking the patterns of this behavior, observing them and then filtering each message into the appropriate folder. This leaves the messages you need to respond to now in your inbox and hides the ones that can wait, delightfully out of sight.
Want to learn more about Clutter and other Office 365 features? Get in touch with us today.