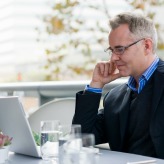 Apple announced the release of an all-new MacBook at its Spring Forward Apple Watch event earlier this month. This latest innovation in the MacBook family is simply named the New MacBook, creating a new product line alongside the existing MacBook Pro and MacBook Air. Here's a rundown of the New MacBook's specs and features, and how they might impact your work if you're thinking of using one.
Design
You'll be amazed how compact the New MacBook is. It is currently the thinnest notebook Apple has to offer, measuring only 13.1 millimeters in thickness. It is also very light, weighing only two pounds, or less than a kilogram. MacBook series usually come in silver, but the New MacBook is available in Space Gray and Gold hues, similar to the iPhone and iPad.
Display
The New MacBook sports a high-definition Retina display, with a resolution of 2304×1440 pixels. The 12-inch display screen is wide and roomy enough to engage with web browsing, applications and programs efficiently.
Keyboard and Trackpad
Apple has always incorporated some of the best keyboard and trackpad technologies in its MacBook machines. A big keyboard change sees the traditional scissor mechanism replaced with a butterfly mechanism, offering users a better typing experience. The butterfly mechanism is wider and is made from a stiffer material, meaning that it's more stable, responsive, and takes up less vertical space.
In addition to keyboard improvements, Apple has also made changes to its trackpad. The new Force Touch Trackpad is pressure sensitive, and can tell the difference between a tap and a click. You can take advantage of the Force Touch and find new ways to interact with the MacBook, such as activating certain applications by putting more pressure on the trackpad.
Silent operation
The New MacBook doesn't need a built-in fan to cool itself down. With the assistance of Intel's Core M chip, the New MacBook generates less heat, and disperses sidewards the heat that it does create. It will remain cool and virtually silent, even when you open multiple programs.
Battery life
Apple has made major improvements in the New MacBook's battery capacity, despite its thinner and lighter design. The newly-designed battery extends the New MacBook's life further, allowing up to nine hours of web browsing, or ten hours of watching videos.
Price and release date
The New MacBook will retail between $1500 and $2000, depending on specifications. Apple will begin selling the New MacBook on April 10 through its online store.
To learn more about how your business can benefit from using Mac devices, give us a call today.