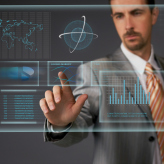 Business intelligence, or BI, is a common term in the business world today. It combines and analyzes data to help business owners make important decisions and strategies. Business intelligence was only used by large enterprises until very recently but technology has evolved rapidly, and BI's costs have dropped dramatically, making it affordable for small businesses.
What is business intelligence?
As a business owner, you may have come across business intelligence at some point in your research for efficient business tools. Business intelligence is a term that sounds intimidating, but it's actually really easy to understand.
BI is a set of tools and techniques that transform raw data into information that companies can actually use for business purposes. You can use BI tools to collect data from internal systems and external sources. That data can then be analyzed and compiled into text or visual reports for corporate leaders, assisting them in making important business decisions.
Benefits of BI for small businesses
When it comes to analyzing data, business intelligence is a cut above other methods like simply pulling data from Excel spreadsheets. Businesses can use BI for many purposes. Here are some benefits.
Boost sales – Business intelligence tools can create and analyze data to improve sales. You can send an email to your clients, inserting a link to your website, then monitor their behavior with an analytical tool to subsequently target your emails more successfully. You can also use BI for sales forecasting and to decide on the best method to reach your sales target.
Identifying opportunities – BI tools allow you to assess your company's capabilities and compare your strengths and weaknesses to your competitors. You can also identify market trends in order to respond quickly to change.
Better customer service – Customers are the lifeblood of any small business, and you should take customer service seriously. There are BI software programs that collect post-service customer feedback. Your customer service team is informed when they receive low feedback scores, so they can follow up and resolve any issues.
Implementation
After you've researched the benefits of BI to your business, the next step is to implement it in your company. The first thing to clarify is your need for business intelligence. Do you want to improve your sales? Are you looking for new customers? It's important to be clear on this, so that you can choose a BI tool that will provide the best solutions to your problems. Once your objective is clear, it's time to determine what resources you already have to get the job done. In some cases, your existing tools may be sufficient.
There are lots of BI options to choose from, and you should pick the one that best suits your needs. Want to know how to adapt business intelligence to your company? Give us a call and see how we can help.