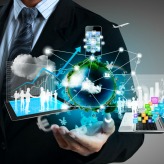 In today's competitive business environment, large companies have operations in many places within their home country and other parts of the world. Each of their branch offices may generate huge volumes of data on a daily basis, and corporate decision makers require access to those data sources. This is where data warehouses come in. The data warehouse is one of the most important business intelligence tools a business need to have. It turns the massive amount of data generated from multiple sources into a format that is easy to understand. Here's some background information about data warehouses and their key benefits for businesses.
Data warehouses defined
A data warehouse is a centralized store of all data generated by the departments of a large organization. It is specially designed for data analysis, generating reports, and for other ad-hoc queries. A data warehouse extracts the huge streams of data from a company's operational and external databases and turns them into meaningful data, so business decisions can be made based on this information.
Differences between data warehouses and databases
The purpose of a database is to record and store current data from users. A database is suitable for the traditional type of data storage method. For instance, a bank ATM uses a database to record their customers' money transactions in real-time. A data warehouse, on the other hand, is a type of database but specifically designed for data analysis. It is used to store and summarize large volumes of historical data.
Benefits of data warehouses
A goal common to all businesses is to make better business decisions than their competitors. Once a data warehouse is implemented into your business intelligence plans, your company can benefit from it in many ways.
Better decision-making – Corporate decision makers will no longer have to make important business decisions based on limited data and hunches. Data warehouses store credible facts and statistics, and decision makers will be able to retrieve that information from the data warehouse based on their personal needs. In addition to making strategic decisions, a data warehouse can also assist in marketing segmentation, inventory management, financial management, and sales.
Quick and easy access to data – Speed is an important factor that sets you above your competitors. Business users can quickly access data from multiple sources from a data warehouse, meaning that precious time won't be wasted on retrieving data from multiple sources. This allows you to make quick and accurate decisions, with little or no support from your IT department.
Data quality and consistency – Since data warehouses gather information from different sources and convert it into a single and widely used format, departments will produce results that are in line and consistent with each other. When data is standardized, you can have confidence in its accuracy, and accurate data is what makes for strong business decisions.
A data warehouse is essential for any business that wants to profit from sound business decisions. If you're looking to implement a data warehouse into your business, give us a call today.