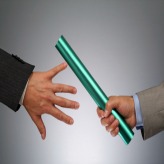 Businesses can face disasters at the most unexpected times, whether that's a flash flood that takes down your servers or a sudden power outage during a thunderstorm. And when these events do happen, you as a business owner must have a business continuity plan (BCP) in place, to ensure that your company doesn't go out of business for good. But for most people who are new to business continuity, words and terms used by BCP experts may sound like a different language. Here are some popular business continuity terms that are often tossed around.
Battle box – a tool box where necessary equipment and vital information are stored. These objects and pieces of information should be useful in a disaster. Typical items include a first aid kit, laptop, protective equipment, and communication devices.
Business impact analysis (BIA) – a process to evaluate the impact that a disaster may have on a business. The BIA shows what a business stands to lose if some parts of its functions are missing. It allows you to see the general picture of your business processes and determine which ones are the most important.
Call tree – a comprehensive list of employee contacts and their telephone numbers. Call trees are used to notify out-of-office employees about a disaster. Companies can use a software program to contact people on the call tree by sending automated emails and text messages. In order for a call tree to work, employees should provide alternative contact options and their information must be up to date.
Data mirroring – a duplication of data from its source to another physical storage solution or the cloud. Data mirroring ensures that crucial information is safe, and companies can use the copied data as backup during a disaster.
Exercise – a series of activities designed to test a company's business continuity plan. When an exercise is carried out, there will be an evaluation to decide whether a BCP is meeting standards or not. An exercise can identify gaps in, and the drawbacks of, a BCP and is therefore used as a tool to revise and improve a business continuity plan.
Hot site – an alternate location equipped with computers, communication tools and infrastructures to help a business recover information systems affected by the disaster.
Plan maintenance – a process of maintaining a company's business continuity plan so that it is in working order and up to date. Plan maintenance includes scheduled reviews and updates.
Recovery time objective (RTO) – a period of time in which companies must recover their systems and functions after a disaster. This is the target time for a business to ideally resume its delivery of products and services at an acceptable level. RTO may be specified in business time (e.g. one business day) or elapsed time (e.g. elapsed 24 hours).
Business continuity plans can be a hassle to design and implement without proper understanding of their requirements. If you want to learn how you can protect your business from disasters, give us a call today.