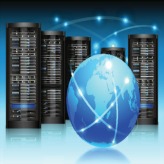 Virtualization has taken a firm hold over most businesses, since companies can reduce their costs and improve IT efficiency by virtualizing data. And when it comes to virtualization, VMware is an industry-leading virtualization company that allows businesses to store their assets in an economical way. Recently VMware has launched vSphere 6, the latest version of its vSphere flagship product. Here's what you need to know about vSphere 6 and its capabilities that may benefit your business.
What is vSphere 6?
After three years of development, VMware has finally released vSphere 6, the latest version of its virtualization platform. vSphere 6 is a cloud system that turns physical resources into virtual ones. It also allows users to run multiple operating systems and applications on a single computer. The new vSphere 6 is equipped with new capabilities to suit the needs of business users.
What are its new features?
vSphere was recently updated to version 6 and, along with the update, a number of new features were added that could prove useful for businesses.
Content Library – This new function enables users to store virtual machine templates, applications, ISO images and script into a centralized management tool of vSphere, the vCenter. It is very useful when you need to install files or maintain your infrastructure. With Content Library, you can keep everything in one place, allowing easy access when needed.
vMotion – Migrating data can be one of the most daunting tasks for administrators. With vMotion, you can move an active virtual server from one physical server to another without downtime. vMotion will retain the network's connections and perform non-disruptive live migration with a high speed network connection. The whole process takes merely seconds to execute, so users won't even notice that the server has been moved!
Fault Tolerance – On those rare occasions when your company is facing power outage, the damage can be severe. vSphere 6's Fault Tolerance protects up to 4 virtual CPUs and allows your applications to keep running in the event of server failures. This feature ensures zero downtime and prevents data loss. Fault Tolerance is needed for applications that require continuous protection.
NVIDIA GRID vGPU – VMware partners with NVIDIA to bring high-quality graphics to their virtual machines. GRID vGPU provides exceptional graphics when sharing desktops and applications on a virtual server. In the past some applications were impractical to use on a virtual server, due to their need for high-quality graphics cards. But GRID vGPU can bring those applications to life on a virtual platform without the need to install a high-end graphics card.
The new vSphere 6 packs in a whole load of new features and innovations that will bolster many enterprises' virtual performance. If you're interested in integrating VMware into your business, contact us today to find out how.