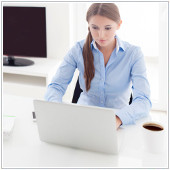 Most people over the age of 20 would agree it's not wise to accept a friend request from a stranger on Facebook. That profile image of a voluptuous vixen in a string bikini, that you swore you just saw in a lipstick commercial, is likely a dude who lives in his parent's basement with nothing better to do than hack your account. But when it comes to LinkedIn, what's the right move when a stranger sends you an invite? Here are some of the reasons you might want to accept or reject that LinkedIn invitation.
Why to reject
Rejectors of stranger invitations have a common argument that's hard to dispute. If you connect with a stranger, and a trusted member in your network (who you actually know) asks for an introduction to that connection, you may look a bit silly saying you've never met the guy. This scenario can obviously be a bit awkward. And LinkedIn rejection enthusiasts like to use this argument as their trump card to silence the opposition.
To go along with this, they may further ask what would happen if that stranger started requesting introductions to valued members of your network? Again, you might find yourself in an awkward situation.
The core philosophy of any LinkedIn invite rejector is that your network should be made up of people you know and trust. Some people see a connection on LinkedIn as an endorsement of that person. If strangers in your network have a bad reputation that you don't know about, and others see that you're connected with them, it could be a bad reflection on you.
Why to accept
More people seem to lean toward connecting with LinkedIn strangers than against. But does that actually make it the right decision? Why do people choose to accept invitations from people they don't know?
People with 500+ connections appear powerful, even if most of their connections are with strangers. Seriously, think about it. Who would you be more likely to trust, a person with 70 connections or one with over five hundred?
More connections also mean a higher chance of being found. More and more recruiters are jumping on the LinkedIn bandwagon and, whether you're looking for freelance work or for a new job, LinkedIn is a great place to be found. The more connections you have, the easier it is for you to appear in search results.
What's more, a higher connection count can lead to your profile reaching a larger audience. If you have a business, feel like you have something to say or just want to speak your mind in a professional manner (save the posts about your drunken exploits for Facebook), LinkedIn presents an excellent opportunity to get your voice heard. And the more connections you have, the more people you'll have the opportunity to influence.
The choice is yours
There is no right or wrong answer when it comes to connecting with strangers on LinkedIn. It comes down to personal preference and objectives. If you want your network to be trusted individuals you actually have a relationship with, then it's better for you to reject those stranger requests. On the other hand, if you're looking for more opportunities and are self-employed, connecting with strangers can be a great way to drill up more business.
But there is middle ground, too. Maybe you don't connect with just any old stranger (like that guy who works for the Bank of Nigeria), but if there is someone who is a friend of a friend or who works in your field, it might be worth connecting with them. Remember, your friends were once strangers too, so maybe that request from Bill who works at your local hardware store will turn into a blossoming business relationship. You'll never know if you don't try.
If you're looking to learn more about LinkedIn and other social media platforms, contact us today and see how we can help.