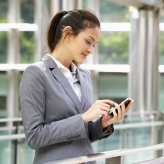 Integrating technology to reduce costs and increase productivity has always been a profitable approach for business owners. With the emergence of new technologies in recent years, businesses can take their pick from the best tools available. Among the best of these is the Windows Phone, the smartphone is packed with built-in functions suitable for various business activities. Here are some features you can implement in your business for better performance.
Data Sense
Nowadays, telecommunication service providers restrict your Internet usage to a few gigabytes of data on a monthly basis. When you've exceeded this data limit, your Internet speed goes down drastically, and you might even have to pay extra to maintain speed. Data Sense allows business users to stay productive while on the go by monitoring their data usage. You can set a monthly data limit and Data Sense will help you control background applications and save certain downloads for when you're connected to a Wi-Fi network. This way, you can save your precious connection speed for when you need it most.
'Running late' notification
At important business meetings, you don't want to be the one seen as unprofessional for turning up late, especially if you haven't been able to let people know what's happening. But even if you strive to be on time for every appointment, sometimes things are beyond your control. The 'running late' notification in the Windows Phone calendar app lets you send a quick message to your colleagues, to alert them to the fact that you'll be late for a meeting. Simply do this by setting a default message, then choose a meeting in your calendar. The notification feature will pull contact information from your address book and send an email to attendees of your choice. Just make sure you have a good excuse when you do turn up!
Office Remote
This powerful application turns your Windows Phone device into a remote control for Microsoft Word, PowerPoint, and Excel documents. Business presentations are easier with Office Remote, which you can use to jump between PowerPoint slides and control a laser pointer to draw your audience's attention. You can also use it to store your speech notes, and you can glance down to monitor your presentation time on the screen. Office Remote is simple to implement, requiring only Bluetooth and a small piece of add-in software that allows you to connect your Windows Phone and PC.
TeamViewer
What happens when you're out of the office, and a client calls to request information stored on your computer? Well, the good news is you don't need to rush to your desk. With TeamViewer, you can access your PC's desktop right from your Windows Phone device, as long as the computer is turned on and running the TeamViewer program. This can save you a lot of time when you're outside and need to check a file or run a program on the go.
Mobile device management
If your business deals with confidential client information, then deploying Windows Phones to your employees can be risky. Microsoft has come up with Windows Intune, an application to centrally manage and secure your employee's Windows Phone devices. Windows Intune allows the administrator to manage updates, control which applications can be installed, and protect the devices from viruses and malware.
If you want to integrate Windows Phones into your business, contact us today to get started.