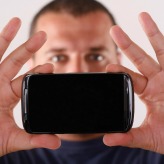 2015 may have only just begun, but some of the big names in the mobile industry are already preparing to launch brand new Android smartphones to kick-start the year. Some of these models are upgraded versions of an existing device, with better features and more functionality. So before you rush into buying an Android phone, you might want to check out these latest devices scheduled to debut in 2015.
Samsung Galaxy S6
If you're a Samsung Galaxy S5 fan, the new Galaxy S6 will be just what you're looking for. Samsung plans to change the overall design of this model following criticism of Galaxy S5's conservative style. There are rumors about its quad-HD screen with 2560×1440 resolution, metal unibody, a 64-bit Snapdragon 810 processor with 3GB of RAM, and better camera and battery performance. As usual, the S6 will be available in three storage options: 32GB, 64GB, and 128GB.
Galaxy S6 is expected to debut at the Samsung Unpacked event, scheduled for March 1st in Barcelona. The release date should be around a month after the official announcement. It's unlikely that Samsung will be making the Galaxy S6 any cheaper than the current Galaxy S5. So far, the estimated price for the 32GB model is around $650, the 64GB model around $800, and the 128GB version could cost an extra $100 more.
Samsung Galaxy Note 5
The Note series from Samsung has always managed to impress Android users. This means Samsung has to come up with something special to stand out further. Word has it that the Note 5 will employ an Ultra HD, 4K display and a camera with up to 50 megapixels. You can also expect wireless charging and a two-day battery life.
The release date for Note 5 is still yet to be confirmed, but Samsung tradition suggests the launch will be somewhere during September and October. As for the starting price, Samsung's Note series has always been costly, and Note 5's additional features could further increase the price up to around $750.
Sony Xperia Z4
After Xperia Z3's debut in September 2014, Sony has been working around the clock to strengthen its Z-series products. The Xperia Z4 is expected to have a 5.5-inch quad-HD screen with a Snapdragon 810 processor. Sony's smartphones are well-known for their camera quality, and the Xperia Z4 may pack in an even more impressive camera and image sensor. The new sensor will be able to record videos much faster and smoother than the previous Xperia Z3.
Sony has announced that it will not be presenting Xperia Z4 at the world's largest mobile trade show this March, so we can assume that it will be released at a later stage in 2015. The price is rumored to be around $600-$650.
LG G4
The one thing LG prides itself on is its innovation, and the new LG G4 is sure to house some extra features. There's a possibility that the G4 will have an eye scanner to gain secure access to the phone, but a fingerprint scanner would be more likely. LG's smartphones are already on top when it comes to screen resolution, so G4's display will probably be ahead of its competitors. Furthermore, a new stylus known as the G Pen will replace the poorly received LG G3 stylus.
Since the G3 is available for $600, we can assume G4 to cost the same or more at its launch. Its release is expected to come in May 2015.
Want to find out how Android phones can fit into your workplace? Get in touch with us today and see how we can help.