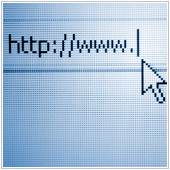 It is really important for a business to have a presence online these days. The first step to take to achieve this is to create a website. When businesses set out to develop and set up a new website, one of the most important aspects they need to decide upon is a Web host. Here is an overview of what exactly a Web host is and the two most common types of hosting.
What exactly is a Web host?
When creating a website, you are going to need to find a way to get the files and pages that make up your site online and available for all Internet users to see. In order to do this, you are going to need to work with a Web host who provides space on a server for you to host your website files (what the user sees when they visit your site).
A good way to think of a Web host is as being similar to a company that businesses rent premises from. You pay the company to rent space to host your Website so that you can run your business. Many Web hosts also offer a service called domain hosting, which allows you to create a Web address so users can access your website e.g., google.com, inc.com, etc. Combine these two services together and you have the main foundations for your website.
Beyond simply hosting your website, Web hosts often host domain-based email addresses, website databases, videos, etc. Essentially, whatever needs to go on your website will need to be stored with your Web host.
When you sign up with a Web host you will usually pay a monthly fee, which the company uses to maintain and invest in new servers for hosting, decreased access speeds, and better services.
What are the two most common types of Web hosting?
There are hundreds, if not thousands of Web hosts around the world, but you can fit almost all of them in one of two categories:
Shared hosting – Hosting where multiple, different websites are stored on one physical hosting server. Sites avet their own partition (section of storage) that is kept separate from other sites on the same server.
Dedicated hosting – Hosting where one website is hosted per server. This means you have all of the server's capacity to yourself. No other websites beyond yours and the other sites you run are hosted.
Which one is best for my business website?
The vast majority of websites on the Internet are hosted via shared hosting services. This is because this way is more affordable, while still offering generally stable access and access speeds. For almost all small to medium businesses who want fairly simple websites, or sites with minimal features, a shared host is ideal.
If your website is going to be large, e.g., thousands of pages, and you are going to need to host complex features like advanced ecommerce, streaming, etc., then it would be best to opt for a dedicated hosting service.
As a general rule of thumb, for most business needs a shared hosting service is sufficient. Dedicated hosting is more suitable for large sites like Google, Amazon, government sites, etc.
There are a wide-variety of Web hosts out there and it can be a challenge to select one that works well for your business. What we recommend is contacting us. With our expertise and solutions, we can help find a Web host that will work best for your website and business needs. Contact us today to shine the spotlight on your online presence.