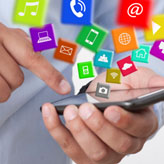 We all use apps on our smartphones to simplify daily tasks and generally make our lives easier. As a business owner too, you might already be using the Google apps suite – including Drive, Gmail, Calendar and others – to more efficiently manage files, contacts and processes. But there are plenty more apps with their roots in the Google factory that can help you to be more productive in and outside of work. These five are among those for which you might want to hotfoot it to the App Store or Google Play.
Google Wallet
For a long time PayPal has been the default digital payment system – the one that instantly comes to mind when you think of paying for goods or services online. Now that has begun to change, with the launch of Google Wallet and more recently Apple Pay, which are designed to make it easy for consumers to make payments with just a couple of taps on both mobile devices and more conventional platforms. In the latest change to this developing sector, Google Wallet has teamed up with payment processor WePay, which provides the technology behind invoicing programs, e-commerce platforms and charitable donation and crowdfunding sites. The move expands the reach of Google Wallet – and Apple is said to be not far behind, with a similar deal – and makes now a good time to equip yourself with one or both apps. Expect mobile platforms like these to play an increasingly visible role in both online transactions and physical, face-to-face purchases in retail outlets and elsewhere.
Google Gesture Search
Need to quickly track down contacts, messages, applications and other data and files on your phone? Google Gesture Search may only be available for Android devices at the moment, but it can speed up the process of searching for that elusive file or folder. The app allows you to use your finger to draw letters, numbers or symbols on your phone's screen to identify the item you are searching for. The app is also intelligent in that the more you use it, the more it learns from your search history and makes better, more accurate guesses at what you're hunting for. Clunky text searches that either yield hundreds of irrelevant results, or none at all, are a thing of the past.
Google Waze
Waze is designed to help you avoid traffic jams and smooth the pain of your travels, while it also allowing you to out for pesky speed cameras. However, it isn't proving as popular with law enforcement. Perhaps understandably in the wake of recent shootings, authorities fear the police finding feature of the app – primarily intended to give a heads-up on speed traps – could make it all too easy for those so inclined to locate and attack police. All the same, because the app is based on crowdsourced data about congestion and cameras as submitted by users, it isn't a totally comprehensive map and doesn't contain anything that couldn't already be spread by word of mouth. But it's probably enough to make your next journey that little bit easier.
Google Translate
Okay, so you already know about this popular translation app, which can help you switch text between around eighty languages. You might even be aware that the app already offers support for voice-to-text translation, whereby you can speak or play a recording of a foreign language into your microphone and have Google instantly translate it into the language of your choice. But at the moment, you have to know which language the original recording is in, in order to select it from within the app – and that is what is about to change. Though there is currently no definite timeframe for release, it is reported that Google is expecting to roll out new features to enable the app to automatically detect a number of common languages and translate without the need for any further human input.
Google Authenticator
It's not only your laptop that should be protected with a secure password – with the number of apps and volume of data likely held in the cloud via your Google account, an intruder gaining access could leave you and your organization at serious risk of a data leak or other security breach. More secure than a regular password alone, Google Authenticator makes it easy for you to put into place two-step verification – which security experts recommend should be standard practice. Once you have this app fighting your corner, logging in to your Google account involves entering your regular password alongside a random code generated by the app – making it far harder for outsiders to break their way in. And because the code is actually generated on the device itself rather than sent from a Google server, it doesn't even matter if your phone is offline or lacking mobile connection at the time.
Want to learn more about how Google Apps can transform your business and help you work more efficiently? Get in touch with us today.