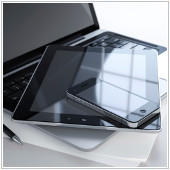 Since the arrival of the iPad back in 2010, businesses have been able to stay connected and easily work on-the-go like never before. Still, many people are constantly looking to increase their iPad's versatility through different applications available in the App Store. And now, thanks to Duet Display, you can effortlessly turn your iPad into your second Mac screen!
Duet Display, developed by a former Apple engineer, Rahul Dewan, will turn your iPad into an external screen for your Mac, and does so using a cable that you already use to charge and sync your iPad. To be precise, it's actually two apps — one for your iOS device and a companion app for your Mac that lets it recognize an iPad or iPhone as a second screen.
How does Duet Display work?
Download Duet Display from the Apple Store for $14.99
Install Duet Display for OS X
Duet Display will add a little settings icon to the right side of your menu bar and requires a password when you're installing it on your Mac. This is because the app needs to install display drivers.
Open the Duet Display app on your iPad and plug it into your Mac with a lightning cable (or a 30-pin cable if you've got an older iPad that's still supported).
Now you can enjoy working with two screens!
Because your iPad is plugged in, you won't have to worry about your iPad's battery. And while you're using Duet Display on the iPad, you'll still get your regular iOS notifications. You can also set your computer to use all the pixels on your iPad's Retina display (2,048×1,536 pixel resolution), or you can set your iPad to regular resolution too. Duet Display works with all Macs running on OS X Yosemite and any iPads or iPhones running iOS 5.1.1 or above, meaning it will work with your old iPad. The only downside is you can only connect a single iOS device for now.
The growing number of applications in the App Store means there are often new ways to make use of your iPad being introduced. Looking to learn more about the iPad and its capabilities? Contact us and see how we can help.