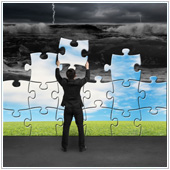 Many health-care practices want to remain independent practitioners rather than merge with larger groups, but in order to do so, they need help managing their offices—specifically, addressing increasing regulation and decreasing revenue.
In response, gloStream, which brought you gloEMR, has evolved from an information technology and consulting firm to a performance-management business. Now, in addition to gloEMR, it offers revenue-cycle management to help practices improve billing and maximize collections, as well as a range of other services, such as workflow analysis and practice optimization.
The new approach works because electronic medical records (EMRs) should be married to practice-management systems—otherwise, you aren't translating the actual services rendered in the EMR to billing, which is key to your practice's success. Closing the loop, so to speak, requires getting the billing and coding correct and improving collections.
The practices participating in gloStream's practice-management service, gloComplete, are saving 10 percent to 30 percent in expenses by closing the loop.