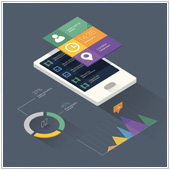 Mobile technology like phones and tablets has become essential for businesses of all sizes. If you have a smartphone or tablet, you are not only more mobile, but can also be more productive. While these devices are being integrated in higher numbers, it really is the apps that enable users to do more. The question many business owners ask however is what apps should they invest in if they want to be able to attend to business on their device. Here are five types of apps you should have on your device.
1. File creation, management, and collaboration
Many small to medium businesses are implementing cloud-based document systems. These systems enable easy file creation, storage, and collaboration between users in the office, coincidentally they also have mobile apps.
If you have cloud-based document systems like Google Apps or Office 365 in your office, it would be beneficial to install the mobile apps for the system that you use. The reason for this is because the mobile apps have the same functionality as their Web-based versions. From your device you can access files, create new ones, share them, and even edit files which means you can be productive on the go.
2. Lists
A good lists app can go a long way in helping to keep you organized. From creating a daily to-do-list to creating a list of long-term tasks or goals, you can create lists when you think of them and easily sync them with other devices and even colleagues.
Lists apps also help because we often come up with things we need to do while away from the office. Because our mobile device is always with us, we can simply add it to an existing list, or create a new one. No having to track down paper that may be lost, or trying to remember things.
While there are many list apps out there, one of the most useful is any.do which allows users to create both work and personal lists and share them with other users. Wunderlist is also great, as it allows users to create lists with sublists and even assign tasks to other people.
3. Notes
Like a list app, a good note app is essential. If you come up with an idea outside of the office, you can jot it down and have the note sync with other devices for action when you are back in the office. Apps of this type are also useful in meetings outside of the office because many of them allow users to record conversations and even add notes quickly. So, if an important idea comes up or is talked about it is recorded and not missed.
Some of the best Notes apps include Google Keep which syncs with your Google account and allows you to quickly create notes. If your office uses Microsoft Office, or Office 365, the best choice would be OneNote which can sync with your Microsoft account, bringing notes to any system. For those who want a powerful notes suite, the best option is Evernote, which works on almost every system and Web browser.
4. CRM
Customer Relationship Management (CRM) tools have become one of the most essential ways for business owners and managers to manage their relationships with their customers. Companies that have integrated a CRM solution have found that overall satisfaction and customer retention has improved.
Because these solutions allow you to quickly view customer data (e.g., contact information, sales history, etc.) it makes sense for mobile apps to be created for anyone working out in the field. In fact, most CRM solutions now have mobile apps that allow you to access customer databases from any mobile device. If you have a CRM solution, especially a cloud-based one, it is worthwhile checking with your provider if there is a mobile app too.
5. Communication
When out of the office, you need a way of keeping in touch with those back at base, or other employees who may also be out of the office. While email is usually enough to cover most communication needs, there are times when you need something more immediate. That's where apps like Google Hangouts, iOS Messages, Microsoft Lync, and even Facebook Messages can help. These chat-oriented apps enable communication wherever you have a data, or Internet, connection.
Beyond this, there are a wide number of VoIP solutions that offer mobile apps. When you install these on your device, you can turn your mobile into your office phone which will function exactly like your desk-based phone. This makes it easier to keep in touch with the office, so be sure to ask your VoIP provider if there is a mobile app you can install on your device.
If you have a favorite business app, let us know. And, if you are looking for a way to increase the value your business can provide customers, contact us to learn how a mobile solution can help.