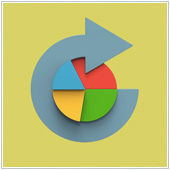 The September 2014 American Health Information Management Association (AHIMA) event in Sand Diego emphasizes the importance of technology, including tools for computer-assisted physician documentation, information technology designed to ease the transition to ICD-10, and revenue-cycle management, with many of the new products being showcased focusing on those areas.
Revenue-cycle management, in particular, is a buzzword on today's health-care environment. The management of claims processing and payment, it uses technology to keep track of a claim status at every point of its life, making sure payments are collected and denials (which can cause up to 90 percent of missed revenue opportunity) are addressed quickly. It encompasses the determination of patient insurance eligibility, the collection of co-payments, and the proper coding of claims using ICD-10. The result is a steady stream of revenue.
gloStream specializes in revenue-cycle management, providing practice management tools and electronic medical record (the choice of which may be centered around how the physician's revenue cycle management is implemented). gloStream is much more than a billing company; it's a provider of revenue-cycle management personalized to your practice's specific needs and ever-changing payer reforms. To learn more about these services—and how they can reduce costs while simplifying your practice—contact gloStream.