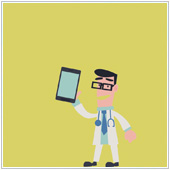 The deployment and utilization of electronic medical records (EMRs) is driving a health-care technology revolution as physicians find that their EMRs complement their other systems, enabling the establishment of patient portals, medication tracking, and electronic prescribing among other things.
Physicians are making strides in regard to technology adoption, however, in many cases it's the result of necessity rather than desire. As the industry moves away from the fee-for-service model, and places more emphasis on quality reporting, physicians have to pay attention to workflows so they can capture data in a timely manner.
What some physicians don't understand is the benefit of technology to their practices. In addition to giving physicians more time to spend with their patients, it allows them to serve as caretakers of personal health information, and this puts them in a position to be more dominant in accountable care organizations and control relationships with provider partners.
One area in which physicians are behind is ICD-10 conversion. Many who had hoped for the delay, and now that they have it, aren't moving forward fast enough. Indeed, some industry analysts believe the one-year delay to October 2015 may have actually slowed down the process of conversion.
If you are struggling with the technology in your practice, contact us today. Our wide-variety of services can be tailored to help make technology not only easier to use but also manage. We can also help ensure that your practice is ready for ICD-10 well ahead of the projected deadline.