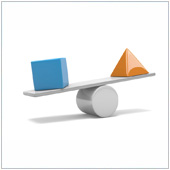 When it comes to integrating Microsoft Office into your company, you are faced with two main options: Either purchasing Microsoft Office 2013 or signing up for the cloud-based version, Office 365. With both of these options you do get access to the Office suite, but there is some confusion over what the main difference is between the two product offerings.
What is Microsoft Office 2013?
Microsoft Office 2013 is the latest version of Microsoft's popular Office suite. With apps like Word, PowerPoint, Excel, and more, it is mostly similar to all previous versions of Office. When you purchase this type of Office you receive a number of licenses allowing you to install this on up to five computers or devices – depending on the version (e.g., Home, Student, Professional) of Office that you get.
You can purchase these products outright, as you have done with previous versions of Office, but Microsoft is really pushing their subscription-based version of Office, what they call Office 365. When you subscribe to the Office 365 version of Microsoft 2013, you get the same software as you would if you purchased it outright, the only difference is you pay for it either monthly or yearly, instead of all at once.
What is Office 365 for business then?
Where it gets confusing for many is that in 2011 Microsoft launched a cloud-based version of Office for businesses also called Office 365. Despite the same name as the subscription-based version of Office 2013, this is a different product that is aimed at businesses.
Office 365 for businesses is a monthly (or yearly) per-user subscription service that offers businesses productivity software, enhanced communication apps like email and video conferencing; guaranteed security; and support for intranet and collaboration solution SharePoint.
With Office 365 for business, companies can sign up for a number of plans. Some of them, like Office 365 Small Business Premium and Office 365 Midsize Business, offer full versions of Office 2013 (including Word, Excel, PowerPoint, Lync, Outlook, Notes, Access, etc) that users can install on their computers or mobile devices. Other versions, like Office 365 Small Business, come with Office Web Apps which can be accessed via your browser.
Which is better for business?
Most businesses will benefit more from Office 365 because of the extra features and enhanced security. Not to mention the fact that the monthly per-user cost is usually lower when compared to licensing the same version of Office 2013 for each individual.
Some other benefits Office 365 for Business include:
All users are on the same version of Office: Because Office 365 for Business is based in the cloud and is managed via a central admin panel, you can ensure that all users have exactly the same version of Office, which in turn ensures that your files will be compatible.
Reduced licensing costs: If you were to purchase individual versions of Office 2013 for your employees, you could end up paying over USD $399 for the Professional version which can only be installed on one computer. Compare this with Office 365 Small Business Premium which costs USD $12.50 per user, per month and offers the same version of Office, along with more features.
Enhanced security and uptime: Microsoft guarantees that Office 365 software will be up and running 99.9% of the time, which means the programs you rely on will be available when you need them.
It's more mobile: With Office Web Apps and Office 2013 mobile apps you can take your work anywhere. Combine this with solutions like SharePoint which allow you to store documents in a central location, which makes it easier to access your files while out of the office. Beyond that, if you would like to use the Office mobile apps, you will need an Office 365 subscription.
If you are looking to integrate Office 365 into your organization, or would like to learn more, contact us today.