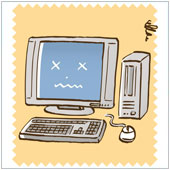 Technology is an important part of almost every role in every business. We have come to rely so heavily on it, that when we do have a problem with a device or system our productivity can easily grind to an almighty halt. While many of us know our systems will eventually breakdown, do you know what to in this situation? Are you prepared?
What to do when your systems stop working
Often, our first reaction when our technology or systems stop working is to either panic, or get angry. Once we are over this, we often feel desperate to get the problem fixed but may be at a loss as to what to do.
When technology does breakdown, here are some recommended steps you should take:
In the words of Douglas Adams, "Don't Panic!" – One of the more popular quotes from the immensely successful Hitchhiker's Guide to the Galaxy is "don't panic". This rings true for the vast majority of tech problems. While you may feel like you are facing a big issue at the time, most systems can be fully recovered. This is especially true if you have backup solutions in place.
Note what you were doing before the problem occurred – This is an important step, as when something does go wrong, one of the first things tech support will ask you is what you were doing before the problem occurred. The more information that you can give them, the more likely they will be able to solve the problem faster.
Ask your colleagues if they are having the same problems – Because so many business systems are networked together, many techs will want to see if problems are localized to your computer or are network wide. Armed with this information, it is far easier to work out the most effective solution.
Try turning it off and on again – When faced with many tech problems, you will be asked to turn the system – be it your computer, an app, server, etc. – off and on again. Sometimes the fault lies in the software or short-term memory (RAM) of systems, and turning the system off and on again is enough to fix this.
Google it – If an issue persists and it is related to the software on your computer, or a website, try searching the Internet for an answer. If the page doesn't load, you then know the problem is related to the Internet connection. Should the problem be with a cloud service, checking the provider's website or social media feeds is useful to check for post status updates of their systems.
Don't rush into a supposed fix – It can be tempting to try out the first supposed fix you come across or someone suggests. The problem is, some 'fixes' can actually end up harming a system even more. For example, you may find suggested fix for a phone that has been dropped into water that says to take the device apart and dry it with a blow dryer. This will damage components, and also void your warranty, which could make the issue even more expensive to deal with. Instead, you should seek the advice of an expert like us.
Don't overreact – Have you ever felt so frustrated you have wanted to reach out and smack your computer? While this may make you feel better on one level the reality is that you could make a bad situation worse. When faced with any tech troubles it is best to walk away for a short time so that you can deal with the situation in a calm and collected way.
Call your IT partner or IT helpdesk – If the system doesn't work after restarting we strongly recommend stopping there and reaching out to your IT helpdesk or an IT partner like us. We have the experience to investigate the problem, and we can usually come up with an answer and hopefully a fix in a short amount of time.
Preventative steps you should take
While it is inevitable that systems will eventually breakdown, it doesn't mean we are powerless to prevent this from happening, or at least minimizing the potential fallout. One of the easiest preventative measures you can take is to try and take care of your devices and systems. This includes being careful to not physically damage them, while also being sure to watch what you install on your systems, and implementing security standards.
We also strongly recommend working with an IT partner like us. We can help manage your systems and implement measures to keep them working long into the future. Beyond that, we can help monitor systems so that should something start to go wrong, we can begin to implement a fix even before you notice it. And, if something should break down, we can either fix it ourselves or recommend an expert who will be able to help.
Looking for help keeping your systems running and employees productive? Contact us today to learn more about our services and how they are designed to help.