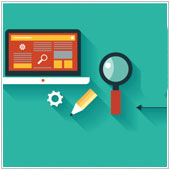 There is a good chance that your business is constantly looking for new clients. One of the most effective ways in which you can enhance your customers base is to have a strong Internet presence. It used to be that a website was enough, but now you need to have a full and active online presence. One of the best ways to achieve this is via content marketing. The challenge then is ensuring your efforts are successful.
What are the benefits of content marketing?
Before looking into ways you can implement content marketing that works, it is a good idea to look at the benefits of this type of marketing for businesses. One of the biggest pluses is that it boosts online engagement between you and your customers. If a customer sees that you are producing quality content that appeals to them, they will be more likely to interact and consider you when they need your products or services.
The other major advantage of a good content marketing strategy is that it helps show search engines like Google that your website and online presence are active. Because of the way search engines work, more active sites are usually ranked higher in results. If your website and overall Internet presence is seen to be active on a regular basis, you could possibly reach the first page of search results, which can lead to a boost in site visits, inquiries, and even sales.
If you have been considering implementing a content marketing campaign, or are looking to improve your existing efforts, the following four tips could help.
1. Always have a goal
The main thrust of many successful content marketing initiatives is that they tell a story. As with any narrative there needs to be an ending and in the case of content marketing this endpoint is a goal – something you want the reader to do. What do you want to achieve? Do you want customers to call? Do you want them to learn how to use your product?
By working backwards, you can then determine the right voice to use and best way to reach those customers who are most likely to react positively to the content. This also makes it easier for you to separate your campaigns and even launch multiple strategies at the same time.
Beyond this, having a goal can really help you narrow down the type of content you need to create. If for example, you know what customers you want to attract and how you want them to ultimately act, you can create content that is more appealing to them.
2. ABT
One of the most popular sayings amongst content marketers is to, "Always Be Testing (ABT)". When developing content you should be striving to test your content. Consider if certain images work better than others, as well as headlines, layouts, and content types, etc.
This could be as simple as developing three different social media posts and testing them with different market segments, or locations. You can then take what you have learnt from the tests and apply this to future posts.
The same can be said for more advanced content like blog posts or white papers. If you create different versions and layouts, and track the general downloads and interaction with the content, you can usually figure out how various people are reacting in different ways to a variety of content.
It is important to note here that content marketing is not a quick payoff style of marketing. You need to invest time, money, and effort into this and be willing to always be tweaking content. It takes time to pay off, but the time invested in testing what works and what doesn't work will help you develop better, more useful content.
3. Share and share alike
Creating content and just putting it on existing sites or sharing it with existing clients is not the most efficient way of making your content marketing show returns. Combine this with the fact that you will likely be using platforms like social media which are constantly changing and adding new content, and there is a good chance your content won't even be seen.
What you should aim to do is to share the content as much as possible. Share it on all of your social media platforms, link to it on your site, add it to emails, use the various social media content promotion features, and most of all: Share it again.
If you truly believe content is useful to your target market, you should aim to post it at least three to four times on social media. One of the most effective strategies is to share it on different days at different times, usually with a space of at least a week or two between posts. This can help maximize the numbers who see it.
4. Be prepared to fail
Failure is a part of business, and coincidently, it is also a part of content marketing. Face it, you might create content that just simply won't click as you intended. If this happens, your first reaction might be to pull the content and try something different. This may not be a good idea.
Sure, if the content is stirring up trouble, or has offended people, then it is likely best to remove it. But even if you aren't seeing the results you had hoped for, stick with the content for a bit. Try reposting it, and promoting more vigorously. It could very well be that users just didn't see the content.
As we stated above, successful content marketing takes time and effort. Once you realize this, and combine it with the fact that not everything will work, you should see a viable strategy surface over time.
If you are looking to learn more about content marketing and how our systems can help support it then get in touch and we can share our thoughts on how to be proactive and get results.