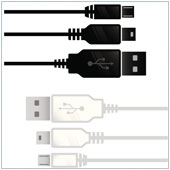 With smartphones playing a larger role in today's daily business, the need to recharge them while you are on the go increases. And when you're nowhere near your charger, that public charging kiosk can look pretty promising. But what you might not know is that common traits in smartphone hardware and software design makes recharging phones through public chargers prone to juice jacking. If you're not sure what that is then let's find out and also discover how you can avoid juice jacking too.
What's juice jacking?
Regardless of the kind of smartphone you have, whether it's an Android, iPhone or BlackBerry, there is one common feature across all phones: the power supply and the data stream pass over the same cable. This setup allows for juice jacking during the charging process whereby user access is gained on your phone by leveraging the USB data/power cable to illegitimately access your phone's data and/or inject malicious code onto the device.
The attack can be as simple as an invasion of privacy, wherein your phone pairs with a computer concealed within the charging kiosk and information such as private photos and contact information are transferred to a malicious device. However, on the other hand, it can also be as invasive as an injection of malicious code directly into your phone. According to security researchers at this year's Black Hat security conference, your iPhone can be compromised within one minute of being plugged into a harmful charger.
Exposure to a malicious kiosk can also create a lingering security problem even without the immediate injection of malicious code. Once a device is paired to a computer, it can access a host of personal information on the device, including your address book, notes, photos, music, sms database, typing cache, and even initiate a full backup of your phone, all of which can be accessed wirelessly at anytime.
How do I avoid it?
The most effective precautions center around simply not charging your phone using a third-party system. Here are some tips to help you avoid using public kiosk charger:
Keep your devices topped off: Make it a habit to charge your phone at your home and office when you're not actively using it or are just sitting at your desk working.
Carry a personal charger: Chargers have become very small and portable, from USB cables to power banks. Get one and throw it in your bag so you can charge your phone anytime you're at the office or while on-the-go if you use a power bank.
Carry a backup battery: If you're not keen on bringing a spare charger or power bank, you can opt to carry a full spare battery if your device has a removable battery.
Lock your phone: When your phone is truly locked as in inaccessible without the input of a pin or equivalent passcode, your phone should not be able to be paired with the device it's connected to.
Power the phone down: This technique only works on phones on a model-by-model basis as some phones will, despite being powered down, still power on the entire USB circuit and allow access to the flash storage in the device.
Use power only USB cables: These cables are missing the two wires necessary for data transmission and have only the two wires for power transmission remaining. They will charge your device, but data transfer is made impossible.
Even the tiniest detail like charging your phone from a kiosk charger could affect the security of your device. While there are many substitutes to using a third-party system, ultimately the best defense against a compromised mobile device is awareness. Looking to learn more about today's security and threats? Contact us today and see how we can help.