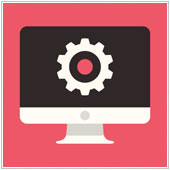 Microsoft's Office 365 is one of the most popular cloud-based solutions for businesses and has seen continued growth since its release over three years ago. As with most new Microsoft solutions, there are near constant updates introduced that aim to improve the platform. One of the latest changes announced is the ability to customize the theme of Office 365.
Coming soon to Office 365 (if not already): Themes
In early September, Microsoft announced that in the following weeks the company would be rolling out a couple of new options that will allow businesses to personalize the look of Office 365. In fact, there are not one, but two new personalization options available for Office 365 users with business subscriptions.
Option 1: Company-wide custom themes
The idea of establishing company brand is not a new concept to business owners, who realize that one of the factors to success is creating positive brand recognition amongst stakeholders, including employees. One of the best ways to achieve this is to include identifiable visuals and colors repeated in as many places as possible. Almost every company has colors that they use as part of their corporate image and brand identity.
To help cement your brand with your employees, you can now customize the theme of Office 365 so that the theme is applied to all users in your organization. When it comes to customizing your theme Microsoft has noted that you will be able to:
Pick the color scheme, which includes a base color and text/icon colors. Set the base as blue for example, and the menu bar across the top will be that color. Set the text as yellow and all icons/text in the menu bar will also be yellow.
Set the color of the Office 365 logo. You can pick up to three colors for the Office 365 logo.
Upload a custom logo. You can upload your company logo and have it applied to the top-left of all Office 365 menu bars.
Make the logo a clickable link. Once you set a logo, you can also make it clickable by adding a custom URL. When a user clicks the logo, they will be taken to the predefined URL.
If you would like to apply your company's brand to Office 365, and have it automatically applied to all users in the company, you will need to be the admin, or to log in as an administrator. Once you are logged on, click on Admin from the main Office 365 screen. Then, click on your company's hyperlink located at the top-right of the Admin screen (right below the menu bar) and select Custom theming.
In the screen that opens, you will be able to set your desired theme, and when you are finished simply hit Save and the theme should be applied.
Option 2: Personalized themes
While company users can set a theme related to their brand, individual users in the organization can also select their own theme from a list of 22 provided by Microsoft. Each theme changes:
The top navigation bar color scheme
Menu colors
Background
Office 365 logo colors
You can change the theme of Office 365 by logging into your account, pressing the Settings cog at the top-right of the screen and clicking Change theme. Once you have selected a theme you like, press Save and it should be applied immediately.
If you are looking to learn more about Office 365 and how you can get the most out of it, contact us today for a chat.