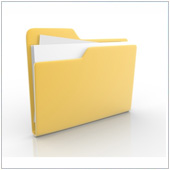 Mobile operating systems like Android have a wealth of features that users can take advantage of. However, many of these features are often hidden or not well represented. For example, did you know that on Android devices you can create folders on your home screen for your apps? Here's five tips on how you can create and manage these folders.
Creating folders
On most devices, when you install a new app the icon will be automatically added to your home screen, or onto a screen where there is space. While this is useful, many of us have a large number of apps installed, and it can be a bit of a chore actually finding the icon you are looking for.
The easiest solution is to group icons together into a folder. This can be done by:
Pressing and holding on an app on your device's home screen.
Dragging it over another app and letting go.
You should see both of the icons moved into a circle and kind of hovering over each other. This indicates they are now in a folder. It is important to note that these folders only appear on your home screen. If you combine say Facebook, Twitter, and LinkedIn apps into a folder on your home screen, they will not be put into a folder in your app drawer.
Naming folders
When you create new folders, you will notice that there is no text below the icon as there is with other icons. This is because you need to name the folder, which can be done by:
Tapping on the newly created folder.
Tapping on Unnamed Folder in the pop-up window.
Naming the folder.
Pressing Done at the bottom of the keyboard.
The name you assign to the folder will show up under each icon on your home screen. If you are going to use different folders, it is a good idea to pick names related to the apps they contain. For example, if you put all of your email apps in one folder, call the folder 'Email'. This will make your apps easier to find.
Adding/removing apps from folders
You can easily add apps to folders by either dragging them from the home screen over to the folder and letting go, or:
Opening your device's app drawer (usually indicated by a number of squares).
Finding the app you would like to put into a folder.
Pressing on it, and holding your finger down until the home screen pops up.
Dragging it over the folder you would like it to be placed in.
Letting go.
If done right, the app's icon should be automatically dropped into the folder. You can also remove apps from folders by tapping on the folder where the app is, pressing on the app, then dragging it up to Remove, which should appear at the top of the screen. This will remove it from the home screen, but will not uninstall the app. You can also tap on the app and move it out of the folder to an empty place on the home screen.
Moving folders
You can move a folder's location the same way you do so with an app: Tap and hold on the folder until the screen changes slightly and drag it to where you would like it to be. On newer versions of Android, the apps should all move to make room for the folder.
Deleting folders
Finally, you can delete a folder by either dragging all of the apps out of the folder, or pressing and holding on the folder until the screen changes and dragging it up to Remove. This will remove the folder and all the stored app icons, but it won't delete the apps.
If you have any questions about using an Android device, contact us today to see how we can help.