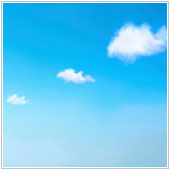 A common trend among many businesses is the introduction of cloud-based systems. While the vast majority of business owners and managers are well aware of the cloud, and may have even integrated at least one cloud system into their business, it can be difficult to decipher the difference between all the types of cloud services out there. To help, here is an overview of the three more common types implemented in many businesses.
1. SaaS
SaaS, or software as a service, is a cloud service that revolves around, you guessed it, software. Easily the largest and most well known cloud-based service, SaaS uses the cloud to deliver software to users, which is then usually accessed via your Web browser. Unlike physical software that you install on your computer, SaaS solutions are hosted on a provider's servers.
This means that the provider is responsible for software maintenance and updates, which translates to the fact that users will all be using the same version of software and get updates at the same time. As a business owner this means that actually managing the software on all of your computers is made not only easier, but more affordable. Combine this with the fact that companies like us can manage these solutions for you and you can see why SaaS is highly popular with many companies.
If you are looking for a new software solution, many major types of software now also have SaaS options including: Office document creation suites, accounting software, email, HR solutions, content management, customer relationship management, and more.
2. PaaS
PaaS, or platform as a service, is a cloud-based service that provides users with computing platforms. Most companies who utilize PaaS do so to either host or develop their own software solutions, or to provide support for software used by employees.
The main reason many companies integrate PaaS is because it drastically reduces the costs and complexity often associated with buying, developing, configuring, installing, and managing the hardware and software solutions that are necessary for the custom-built applications that many businesses rely on.
While PaaS is gaining in popularity with many small businesses, most won't have a lot of first-hand interaction with this type of cloud, especially those who work with IT providers like us. Essentially, most providers will utilize PaaS in order to deliver custom applications and solutions to the end-user.
3. IaaS
IaaS, or infrastructure as a service, is essentially cloud-based computers and resources. The most popular and well known type of IaaS is the virtual machine which is a digital version of a computer or server that is accessed over an Internet connection. The infrastructure is physically kept off site, and usually managed by a provider, but you access and interact with it as if it is located on your computer or in your office.
In other words, if you are looking to virtualize your systems via the cloud, IaaS could be a good place to start as it allows you to move existing support systems into the cloud. Other solutions can then be migrated or introduced as needed.
While the cloud can offer a wide variety of benefits and solutions to companies, it can be a chore to choose the service which is best for your company's needs. We highly recommend that if you are considering a cloud solution, you get in contact with us. We can help find the best solution for the needs of your business and to also manage it, thereby ensuring proper migration and implementation, leaving you to focus on running your business.
Contact us today to learn more.