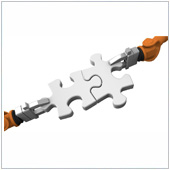 These days many of us have integrated various apps and programs on our computers and mobile devices into our daily lives. The problem many of us face, however, is that apps and programs are all different and many don't work all that well together, so we need to take time to transfer information or even share the same content. To make things easier, there is a great app called If This Then That (IFTTT), that could help make your devices just that much smarter.
What is If This Then That?
IFTTT is a Web and mobile app that was developed to connect different Web apps like Google Apps, DropBox, Facebook, Instagram, etc, together into one general system. In general, the service runs on conditional statements – or recipes – that fit the IFTTT statement.
The service is set up on a number of different conditional statements that make up what the developers of the app call a recipe. Each recipe is broken down into two different sections:
This – Also referred to as a trigger. Each trigger in a recipe is kind of like a requirement in that the set trigger has to happen for the recipe to start working.
That – That refers to an action that happens when a 'this' condition is triggered.
Once you have set up a number of recipes, the app runs in the background to check for triggers and then will automatically execute the action when it notices a trigger.
Examples of IFTTT recipes
There are a wide variety of recipes out there that you can create. For example, some of the more useful IFTTT recipes for businesses include:
If a photo is posted on the business Instagram account, then it is shared with Twitter and Facebook.
If a Square payment is processed, then this creates a line in a specific spreadsheet.
If a contact is added to a phone's address book, then this information is placed on Evernote.
If an article is posted on a specific blog, then the post is shared on Twitter, Facebook, and Google+.
If an email is starred on Gmail, then a reminder is set on my phone to review starred emails.
If I enter the office, then my phone is muted.
If a client emails an attachment, then a copy is saved to DropBox.
If my device is in the office, then my office lights are turned on (if you have Phillips Hue bulbs).
There are a wide variety of supported apps that allow you to create recipes for nearly anything you can think of. The developers are constantly adding support for new channels (apps), including many from the Internet of Things.
How to sign up for this
Because you can access IFTTT from the Web and via an app on your mobile device, we recommend first thinking about how you are going to use it. If you are going to be using recipes for your mobile device, then we recommend downloading the app onto your device. Regardless of how you are going to use it, you can create an account by:
Going to the IFTTT website (https://ifttt.com/)
Clicking Join IFTTT.
Setting a username and password and clicking Create account.
From there, you will be able to log in and start creating rules. If you do want to use your mobile device, you should then download the free app for your device – Windows Phone, Android, iPhone – and then log in using the account information you just created. When you first log in you should see a number of channels (apps) related to your system have been activated. This means you can now start creating recipes.
Creating recipes from your browser
Go to the IFTTT website (https://ifttt.com/) and press Sign in.
Press Create.
Press This and select your trigger – try picking your app first, then click on it to get a list of actions.
Press Create Trigger.
Click That and select an action channel.
Select Create Recipe.
You can also click Browse from the menu bar at the top to find and activate already created recipes.
Creating recipes from your mobile device
Open the app.
Press the mortar and pestle icon at the top-right.
Press the + followed by the + besides If on the next screen.
Select the app from the icons at the top of the screen, and select the related trigger.
Tap the + beside Then and select an action or app.
Press Finish to activate the new recipe.
If you are looking for a cool way to connect different apps, and even save yourself time, then this could be something worth looking into. And, if you are looking to learn more about how you can increase your productivity, contact us today to see how our systems can help.