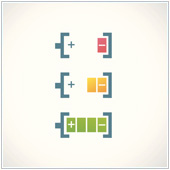 Have you ever taken your laptop to a presentation or meeting and forgotten your power bar? Many laptops have batteries that really won't last all that long when you really need them to, and it can be a pain to run out of battery at an inopportune moment. Luckily, there are a number of ways in which you can extend your battery life when it's running low. Here are six.
1. Adjust the brightness of your screen
A brighter screen will cause your battery life to decrease faster. If you are running low on power, try turning the brightness of the screen down as low as it can go while still remaining visible.
Many laptops, including most PCs and all Macs, have shortcuts on the keyboard that allow you to modify the brightness of your screen. On almost all laptops, screen brightness is indicated by a sun icon, and pressing the smaller sun will decrease the brightness. On most laptops you can either just press the key with the brightness labels on it to decrease the brightness, while others will require that you press the FN key and the key with the label.
2. Activate your laptop's battery saver mode
Most laptops have a built in battery management feature that allows you to enable different profiles based on how you are using the laptop. One of the more useful settings is Battery Saver or Eco Mode. These modes have been developed to help extend the battery life when your battery is running low.
When activated, they will often manually override settings like screen brightness and turn off unnecessary services or connections like BlueTooth. To activate this on PCs, you can usually click on the battery icon in the lower-right bar of the main Windows screen and select your power saving mode.
If you have a Mac, press the battery icon at the top and select Open Energy Saver Preferences. This will allow you to modify how your laptop saves energy, including when to turn the screen and hard drives off.
3. Unplug connected devices
Many USB devices you plug into your laptop like hard drives, mice, phones, etc. are actually powered by your computer. Therefore, if you are running off of the battery, you will likely see increased drain if devices are plugged in.
When you are running low on power, try unplugging devices connected by USB. This is especially important if you have plugged your mobile phone or tablet into your laptop to charge.
You should also look to make sure other connection methods like Bluetooth are off. Disconnecting devices should allow your laptop to last a bit longer.
4. Turn off keyboard backlighting
A common feature of many newer laptops is a backlit keyboard. While useful when you are in a low light situation and need to see what keys you are hitting, the backlight does use battery power and can decrease your battery life.
Most laptops allow you to turn the backlight off from the keyboard, much like the screen brightness. The location of these buttons will be different for each laptop, so be sure to consult your user manual if you can't find them.
5. Close unnecessary apps
When working on the computer, many of us will have more than one program open at the same time. Some of these programs aren't 100% necessary to the task at hand, and keeping them open will usually increase the drain on battery.
So, when your battery starts to get low, try closing apps and programs you aren't using. This is especially true for apps that require larger amounts of computer resources like Photoshop or any graphics heavy program. Closing these will give you a precious few extra minutes, or more, of power.
6. Simplify your activities
Finally, along with closing apps that you aren't using, try simplifying what you are doing. What we mean here is focus on one task. If you are writing a blog article, close everything not related to writing including communication apps like email, instant messaging, etc.
The goal here is to try and stay in the same window or program, as switching programs will increase the drain of the battery. Sure, it won't be a massive spike in battery usage, but staying in the same window or app will help increase the time you'll be able to use your laptop on battery.
If you have a laptop and are looking for ways to get more out of your battery, contact us today to see how we can help.