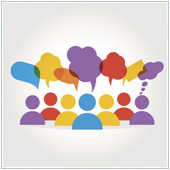 While email is one of the most useful communication tools of the modern age, many people find it to be too impersonal for some business circumstances; preferring face-to-face interaction instead. For Google Apps users, there is one app that could be really helpful in increasing personal communication: Hangouts. In an effort to make the app more business-friendly Google has recently introduced a number of updates.
About Hangouts
As you may already know, Google Hangouts is the company's instant messaging and video calling platform. Introduced in 2013 as a way to consolidate the various messaging tools available to Google users, it allows business and personal users to communicate much as they would on other platforms.
For many Google Apps users however, Hangouts is an integral part of the Apps platform. Hangouts for Apps users is similar to the version used by personal account holders. You can message and join video calls on a number of devices, including your mobile phone, tablet, and desktop. The major difference is that Google Apps users have enhanced management tools and calling features, such as the ability to host group calls of up to 15 users, instead of only 10 with personal accounts.
In order to make Hangouts even better for Google Apps users, Google has recently introduced a number of business oriented changes that improve upon the Hangouts platform.
1. Enhanced terms and services
Before the recent update, Hangouts was actually under a different version of terms and services than other apps like Drive and Gmail. This meant that Hangouts wasn't getting the same high level of support and availability. The company has now announced that they have brought Hangouts under the same terms and services as other apps.
What this means is that there is now 24/7 phone support, 99.9% uptime, and increased security compliance. In other words, the Google Apps version of Hangouts has become more secure and reliable for your business.
The company also announced that Hangouts will soon be able to integrate with Google Vault, which will be able to archive conversations and chats. Businesses who have signed up for Vault should be see integration coming by the end of this year.
2. Easier joining of Hangouts video calls
In previous versions of Hangouts, all users needed to have a Google+ profile in order to take full advantage of the video calling and conferencing features. The problem with this is that not all users have, or want, Google+ profiles.
This kind of hamstrung users, or forced them to sign up for a social network they didn't necessarily want. Google has recently removed this restriction for apps users, and now anyone can use Hangouts. This means that you can start or join video conversations of up to 15 users on your computer, or via the company's Chromebox for meetings – a Google Chrome OS device designed specifically for hosting business meetings, and turning rooms into virtual conference rooms.
For users looking to take full advantage of the video conferencing features of Hangouts on their mobile or tablet, these features should be coming within the next few months.
3. Chromebox for more offices
As we mentioned above, Google's Chromebox is a device that allows users to turn a room in the office into a meeting and conference room. The device allows users to connect screens and cameras to conduct video calls with other users and offices and even collaborate on different Google docs and apps.
Recently, the company has introduced enhanced support for this device. One example is that the device can now support two screens – one for video calls while the other is say being used for a presentation.
While not for every business, Chromebox can be a viable solution for Google Apps users who need to conduct online conference meetings.
If you would like to learn more about Hangouts, or Chromebox, please contact us today to learn how we can help.