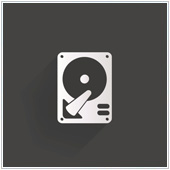 Most IT experts will agree that in order for a business to survive, they need some sort of recovery or continuity plan in place. Regardless of the type of plan, or systems integrated, all systems need to have a back up mechanism. In the last article, we took a look at four tips to help improve your data backups, and continue this article with the final four.
5. Automate your backup
It can be tough to actually remember to back up your files, especially if your business is busy. Therefore, you could look into an automated backup solution. At the very least, you should set a schedule as to when backups are conducted and set what is being backed up. While this isn't a full automation, a schedule will help.
If you are using solutions like the cloud or NAS (Network Attached Storage), you can usually automate the process by selecting which files and folders to back up and when. The software that powers these solutions will then do this automatically.
Ideally, your backups should be carried out automatically to ensure your data is available should you need it. But you should check periodically to ensure that your data is actually being backed up. This is especially true if you are backing up other systems, as there have been cases where employees have become frustrated by the backup process and simply turned it off. The business owner, thinking their data was being backed up would be in for a bit of a shock when systems crashed, if this was the case.
6. Back up your backups
Redundancy of your backups is just as important as actually backing up your data. You should keep a backup of your backup in case something happens to your original backup. While this doesn't have to be carried out as often as the 'normal' backup, this should be done on a regular basis.
In order to really ensure backup redundancy we recommend that if your main backup is kept on-site, then the secondary backup should be on another storage medium that is kept off-site.
7. Don't forget data stored on non-physical drives
What we are referring to here is the data stored on different services like your email, social media, and non-physical locations. This is especially true if you say have you own servers. It's highly likely that there is data stored on these services as well, and should they go down and you haven't kept a backup, you may lose important information.
Essentially, think about critical data that is used in the company, but isn't physically kept on computers. It may feel like this is going a step too far with backups, especially for businesses who use email services like Exchange and Gmail. However, while the chances of these systems going down are incredibly rare, it could still happen. Therefore, you should conduct a monthly to bi-yearly backup just to ensure that data is there somewhere should something happen.
8. Test your backups
Finally, it is beneficial to actually test your backups from time-to-time to ensure that they are not only working but the data is actually recoverable. If you do a trial run on recovering your data, you can get a good idea of how long it will take to retrieve this information when you actually need to recover it. You can then take steps to optimize this and let the relevant people know.
Also, testing is a good way to discover any problems, e.g., if someone has disabled backups, or one solution isn't working. This will ensure that your data is there when you need it.
If you are looking to integrate a data backup solution, contact us today to see how we can help.