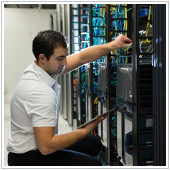 In many western countries, the word 'outsourcing' is both feared and loathed. The idea of moving business processes out of a company really does not sit well with many. However, for a great number of business owners it is appealing, especially when they aren't able to successfully manage all processes alone, such as the IT needs of the business. When it comes to information technology, many businesses have come to rely on outsourced solutions, but there are still myths that hold back some companies. Here are six:
1. It is costly
Talk to some people about outsourcing your IT and the first thing they may mention is how expensive it can be. This comes about because you used to have to invest in expensive hardware and infrastructure that allowed an IT partner to access and manage your systems.
This is simply not true these days, especially with modern technology. Many IT partners offer their services on a per-user or monthly basis, delivered over existing network connections. This makes it easier to budget. Many small businesses have come to realize that outsourcing is a cost-effective solution, especially if they rely on a vast amount of technology.
2. People will lose their jobs
Mention outsourcing and many people get their hackles up, thinking they will be losing their job. While it is true that outsourcing some business processes like manufacturing could well result in a loss of jobs, outsourced IT providers often set up their business to work with existing team members.
These providers exist to essentially fill in the gaps of a business's IT, or take the existing load off of an overworked IT team. Because business technology is such a wide concept, most IT experts focus on one or two concepts. This means that they don't have to be involved in every aspect of technology of a business,
Also, as good IT services can help your business run more effectively this can, in turn, lead to a more productive and profitable company. This secures and creates jobs not threatens them. The best way to think of outsourcing your IT is that it won't cause a loss in jobs, but instead will help provide a stable platform that supports business growth.
3. You lose control over your infrastructure
There is a common concern that when you outsource a business process to another company you lose control over it. When it comes to outsourcing IT, many business owners often believe that they will lose control over their infrastructure because the partner usually installs and maintains this.
While it is true that an IT partner will manage infrastructure, almost every provider operates with your business goals and needs in mind. They will often implement solutions that not only support but improve existing processes while also reducing costs. This leaves you with a stronger business set-up.
4. It's all or nothing
The idea here is that when you outsource your IT, you have to outsource all of it. In truth, tech solutions are quite flexible and include individual or bundled services that can cover just one area of several aspects of your IT.
The best solution is to outsource the processes where support is weaker. Maybe your IT team is focused on running your online store, so the last thing they probably want to do is implement collaboration software. If you outsource this, you can increase the chance that implementation will go smoothly and you will get the solution you actually want and need.
5. You won't be compliant with regulatory bodies if you outsource
Many businesses work in industries that have strict compliance regulations about the way data is stored and used. Some business owners think that by remaining in control of this, you will be 100% compliant because you can better control the system.
However;, many IT providers operate in the same industry and face the same regulations time and again. This often means that they can actually provide systems that ensure compliance and are also able to keep abreast of changes; implementing them often quicker than an in-house solution.
6. Service levels will be lower than in-house
There's something to be said about in-house support. If a computer breaks, support can be there in a matter of minutes to help fix it. Your IT providers however, is usually based in the same geographical location. This means a quick response to in-house calls.
Beyond this, many providers proactively manage systems. This means that they can often tell when something could go wrong before it does, and then take the correct steps to either fix or prevent the issue from happening. It is this proactive approach that really pays off in the long run, largely because it saves you from costly and preventable repairs, not to mention expensive downtime.
If you are looking to learn more about how outsourcing your IT can help, contact us today to learn about our services.