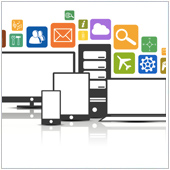 The cloud has become one of the most commonly implemented IT concepts for small to medium businesses. While the type of cloud service put in place does vary, one of the more common is the collaboration and document production suite, of which Google Apps is one of the most popular. While useful and affordable, many business owners are still unsure about what it is and whether it can actually help.
What exactly is Google Apps for Business?
Google Apps for Business is a specifically designed bundle of popular Google Apps that are meant to be used to support your business online. Every business that signs up for Google Apps gets access to a variety of crucial apps like Gmail for email; Drive for document production and storage; Hangouts for instant messaging and video calls; and Calendar for integrated business calendars. All of these apps are easily managed from a central admin platform, and are delivered at a cost that is highly affordable, even for the smallest of businesses.
Possibly the biggest draw to this solution is that you don't have to invest in expensive office related software and hardware. Because all of Google's solutions are delivered over the Web, all you need is a device that can connect to the Internet and you will be able to access your systems and files. This makes it ideal for companies with lower budgets, as well as for companies with remote workers who can access Google's Apps from anywhere on almost any system.
When looking at Google Apps, there are three main reasons companies select this solution:
1. It offers good value
To some, this may sound a bit like it's almost too good to be true, while other business owners question whether there really is a value to switching over to Google Apps. Well, according to a recent report published by Forrester Research, on behalf of Google, Google Apps can yield an average ROI of 329% over three years and, on average, pays off in slightly over 1.4 months.
This is evident largely because the service starts at USD 5 per user/per month. Compare this to other offerings, including already-in-place physical solutions and it is easy to see that Apps is often the more valuable solution.
2. It allows employees to work better
According to the Forrester Research report mentioned above, companies surveyed listed four main ways switching to Google Apps has helped improve their overall business and how their employees work.
All apps are in a single place – Almost every app you could need in business is accessed online, using one account. Log in and your apps are all available at your fingertips, at the click of a button. This means you no longer have to close or switch programs, which helps improve productivity.
You can access it from anywhere – As we mentioned above, you access Google Apps via your browser. This means as long as you have an Internet connection, you will be able to log into your email and productivity suite and work.
There are strong collaboration tools – Google Drive and the included productivity apps like Docs and Sheets come with powerful collaboration features, including the ability for users to edit files at the same time. This increases collaboration while decreasing the overall amount of time needed to edit and work on documents.
There is efficient email – Email is an essential tool for businesses and with Google Apps, you are able to use Gmail. As an added feature, you can add your own domain to get personalized email addresses that are accessed through Gmail. As you probably know, Gmail is quick and simple to use and comes with a number of built-in security features like spam protection and filtering.
3. It decreases IT load
Finally, the third most popular reason companies choose Google Apps for Business is that it makes IT jobs easier. The companies who participated in the Forrester Research survey noted three ways Google Apps can help lower IT spending by as much as 38% per year.
Anyone can manage it – With simple to use admin panels and programs, it is easy for business owners, even those without tech experience, to pick up and manage the different apps.
They are low maintenance – Because the apps are hosted on Google's servers, there is no need to ensure that your software is up-to-date and compatible with your existing hardware, or with new solutions you are considering. This means there are no servers or software to install and manage.
It has simple licensing – Apps for Business is delivered on a per-user, monthly fee. All you do is pay the per-user cost, and you will have access to your programs. There are no set contracts or expensive licenses to maintain which is not always the case with many on-premise solutions.
If you are looking to learn more about Google Apps for your business, contact us today to see how we can help get you started.