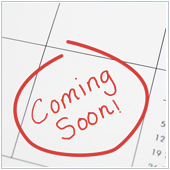 The iPhone has become one of the most popular mobile devices among business users. It is widely regarded for its usability which stems from the excellent iOS operating system supporting it. In early June, Apple announced that a new version of iOS – iOS 8 – was on its way in the fall, and with it will come a number of developments and features. One interesting update of note is a drastically improved Notification Center.
About the iPhone's Notification Center
The Notification Center feature was introduced with the release of iOS 5 and is available on every Apple mobile device. The idea behind it is that it can show you an overview of alerts and updates from specific applications. On iPhones and iPads this is an area where all of the most important information can be accessed quickly.
You can access your Notifications Center by swiping down from the top of your screen. When it is open you will see three views:
Today – Important information about the day, including upcoming calendar events, the weather, and other relevant information.
All – All alerts, including emails, messages, and updates from apps like Twitter.
Missed – Notifications that you have missed in the past 24 hours.
If you tap on any notification or alert, the app associated with it will be opened and allow you to view the content or update in full. For example, when you get a new email, Notification Center will alert you and show who it's from and even some of the content. Tapping on the message will open the Mail app, allowing you to interact with it directly from the main app.
For many users, this is among the most useful iOS features, but many have commented that it feels unfinished. Sure it provides a way to quickly access important information but it is largely static and limited in use. Apple aims to change this with the release of iOS 8.
Notification Center's iOS 8 update
When Apple introduced iOS 8 in early June, they announced that the Notifications Center will be getting widgets that will help make the Center even more functional – providing you with greater information all in one place. Those who have used an Android device before are likely well aware of widgets. These tiny versions of apps display useful information without having to open the app itself.
For example, on Android devices you can add an email widget to your main screen that allows you to read and reply to emails directly from your home screen without having to open the full version of the app.
Apple has decided to take another path with the implementation of widgets, instead baking them into the Notifications Center. With iOS 8, you will still be able to swipe down to access your Notifications Center, only now there will be way more information. In the example Apple demonstrated, there were widgets showing the latest scores of a baseball team and eBay auctions that you could bid on directly from the screen, without having to open the eBay app.
Of course this was just a demo, but you can bet that when iOS 8 is launched, you will start to see useful apps updated with widgets that you can add to Notification Center. If for example you use a note app like Evernote, there is a good chance that you will be able to create or edit a note in the Notification Center, without having to open the app itself.
It is clear that with the impending update, Apple is striving to implement a better and easier way for you to interact with your phone. For many business users this will mean less time having to open apps and search for the information they need. It will be interesting to see what business-oriented apps developers come up with next in terms of making the iPhone an even more effective business device.
Contact us today to learn more about the iPhone and how it can help improve your business.