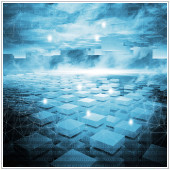 In some cases, the value proposition that server virtualization offers business owners is a no-brainer. But for others, it might not be advisable. The real question is how do I identify if server virtualization will save my business money? To make sure that you are fit to reap all the benefits of a virtual server, you must first make sure that server virtualization is right for your business.
10 ways to identify if server virtualization will save you money:
Expert IT personnel: Some small businesses don't have an IT person on the payroll, or if they do, that person deals with tasks such as security or desktop management which often means they are ill-equipped to deal with the technological sophistication that virtualization demands. If you don't have an IT expert, virtualizing might not be right for you.
Technology as core competence: If your company's core competence is technology, or if you have lots of servers which require abundant storage and skilled IT veterans, server virtualization is sure to help save your company money. Not only will you improve on storage efficiency, but you won't have a payroll replete with lots of IT personnels.
Busy servers: If your servers are taking up floor, rack or shelf space, or if they are dedicated to particular applications; your business is likely to save money through server virtualization. Moreover, if your server equipment is aging, server virtualization might help with significant server consolidation, meaning fewer servers, lower power bills and more floor space, too.
Sensitive applications: Note that not all applications do well in virtual environments. Some critical or sensitive applications require a lot of processor or memory resources and you don't want them sharing those resources with other virtual servers. Find out about your applications performance needs, if they're not sensitive they may be ripe for a virtual server.
Shared storage: Some people will tell you that virtual servers must have a virtual storage, however those themes usually come from vendors whose livelihoods are tied to virtual storage. If your business focuses on having a centralized storage that is shared between users, virtualization can be very beneficial.
Speed of deployment: Some businesses need to be able to provision servers rapidly since failure to do so is a distinct competitive disadvantage. If thats the case in your business, virtualization is a must. Ordering a physical server and deploying it can take days if not weeks; unlike a virtual framework which once in place deployment can be done in no time.
Server virtualization test drive: Why not try virtualization on a small scale before deciding if you should go all virtual? You can buy inexpensive tool such as VMware Workstation which costs around USD$199 for your IT staff to try out and see the potential value of server virtualization.
Do research: Even if you think you know all the basics about server virtualization, be safe than sorry by doing more research before implementing anything. A good place to start is Virtualization for Dummies. It provides a thorough basic understanding of the idea as well as what it can do for your business.
Ignore server virtualization hype: With so much hype around virtualization these days it would be easy for some businesses to rush into. Don't do that! Instead, do some research and analyze your business' components and needs before deciding to go all virtual.
Get help: Server virtualization can be quite complicated, the good news is that vendors are making it much easier to deploy. If you decide to virtualize your servers, getting help from a reputable vendor can pay off in the long run. Most vendors offer solution bundles which include servers and storage pre-installed virtual servers for turnkey operation.
While server virtualization proves to be an efficient and cost-effective solution for many businesses, the most important thing here is to not rush into a virtual server. Take a little time and go through a checklist to see if your business is right for the idea because if not, you're likely to be losing both time and money. Looking to learn more about server virtualization? Call us today for a chat.