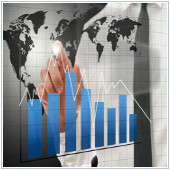 Microsoft promised to bring analytics to a billion screens last February when it launched Power BI for Office 365, a collection of features that enable you to visualize and share data. Now, Office 365 users will be able to do both data mining as well as looking into the future behavior of their products and businesses with Power BI's latest upgrade, which features predictive forecasting.
Predictive forecasting uses a variety of statistical techniques, from modeling to data mining, that analyze current and historical facts to make predictions about the future.
The predictive forecasting function of Office 365 provides users with the skills to generate reports, interactive charts, and 3D visualizations of business performance. Simply put, users can perform advanced forecasting without the complexity that usually accompanies these kinds of processes.
The new forecasting tool utilizes built-in predictive forecasting models to automatically detect seasonality in the data. It also enables users to see how results are affected by adjusting the parameters of the time or confidence interval assigned to be analyzed.
Power BI's predictive forecasting can also help fill in gaps with data. Power View, an interactive data exploration and presentation tool, fills in missing values from a data set before carrying out a forecast for a more accurate result.
A few things you need to keep in mind before using the feature:
The line chart has to have one line as multiple line charts won't work.
The line chart has to have fewer than 1,000 values.
The x-axis value needs to have a date/time format or be a uniformly increasing whole number. It cannot contain text or decimal numbers, and the interval between values has to be at least one day.
How to use predictive forecasting in Office 365:
Simply upload a workbook with a Power View time series line chart to Power BI for Office 365.
Open the file in Power BI and switch to Power View in HTML 5 by clicking Try the HTML 5 version of Power View in the lower-right corner.
Click on the forecast arrow or drag the forecast dot in the line chart and you'll see the forecasting options appear in the analysis pane to the right of your report.
Do keep in mind that Power View automatically detects what appears to be the seasonality of the data. In other words, a complete cycle of peaks and drops. Note that this works best if the chart has at least four times more values than the data cycle.
Here's how to override automatic seasonality detection:
Start a forecast by dragging the forecast handle in a line chart.
The Analysis pane will automatically pop up on your right hand side. If you can't find it, look for Analysis in the upper-right corner.
In the Analysis area, manually set the seasonality to 0, 2, 3, 4, 5, 6, 7, 12, 24, 52, or 365.
Predictive forecasting, if used properly, can immensely help with the overall strategic planning, market penetration and operation of your business.
Looking to learn more about Office 365 and its features? Call us today for a chat.