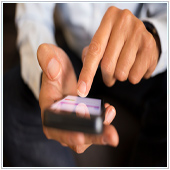 With more customized features and an increasing number of apps, Android devices have become a solid option for business users. The problem is that many people are running out of storage space on their devices. There is an increasing need to have instant access to different documents and an ever increasing number of apps installed. But never fear as there are several ways you can get more storage on your Android device.
MicroSD card:
The best way to get more storage on your Android device is to buy a microSD card. A decent 64GB card can be bought for as little as USD$40 and inserted straight into your smartphone or tablet. Go to Settings and Storage and assign what you want to be saved to your microSD card in the future, as well as moving existing files to maximize storage space.
It's important to note that not all devices have microSD storage slots. The Nexus 5, for example, does not support a microSD card, so make sure your device can support expanded storage in this way first.
Cloud storage:
While a fair number of Android devices do have a microSD card slot, an alternative option for freeing up space is to use cloud storage. Those that haven't embraced the changes the cloud have brought may find it a little tricky at first, but it soon becomes second nature. We recommend using cloud storage apps to store images, important files, and any files which are either too big or too small to make accessing them via a data connection worthwhile.
One of the best ways to access cloud storage is to download an app to your Android device. The perk here is that with most cloud storage apps, you can set these to automatically back up selected files. Make sure to check that your files are saved on the cloud app and then you can delete the files from your smartphone or tablet to create more space. The only downside to this is that you'll need Internet or data connection to view photos on your Android device.
Delete unused apps:
If you have a new Android device and you're already running out of space, you can free some by deleting any bloatware that might have come preinstalled on your device. Some bloatware apps can't be deleted, but most of them can be removed. Simply go to Settings then tap Apps and then tap the app you want to delete and press the Uninstall button.
If you've had your Android device for some time, chances are that you have downloaded many apps including those that are rarely used now. Uninstalling these apps is a great way to free up some space. Simply open your app drawer, tap, and hold on an app to uninstall. When your home screen pops up drag the app to the top of the device and drop it over Uninstall to delete.
Wireless hard drive:
A wireless hard drive is a final option for gaining access to more storage space on your Android device. It is exactly the same as a portable hard drive, except that you connect to it via Wi-Fi.
One of the best wireless hard drives available right now is the Kingston Digital Wi-Drive 32GB which can be bought for as low as USD$50. These wireless hard drives are usually available from 32GB to 1TB, so make sure you choose one that will cover your future usage as well.
Having more storage space on your mobile device will not only enhance your work security but also give you some room to breathe. Looking to learn more about Android phones and what each one has to offer? Call us today for a chat.