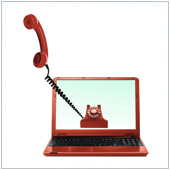 Technological advancement has played a huge role in helping businesses increase productivity and save money. One such tool is Voice-over-Internet Protocol (VoIP), which moves phone communications to a network connection, allowing you to access communication services from anywhere. Though VoIP is quickly gaining popularity, many businesses are still on the sidelines, doubtful whether VoIP is right for them. With that in mind, here's what you need to know about VoIP to help decide if it's the right system for your business.
Quality improvement
Since its inception, the quality of VoIP service has come a long way. Today's VoIP services allow you to make and receive calls using standard phones. Sound quality has improved tremendously, to the point where many businesses have abandoned traditional phone systems in favor of VoIP.
Reduction of telecommunications costs
Operating costs for the majority of VoIP service providers are significantly lower than traditional phone companies. This allows VoIP providers to charge customers – you – much less than their competitors, both in calling rates and monthly fees. With VoIP, businesses no longer have to maintain separate networks for phones and data which also helps save money.
And while some businesses do pay their current phone company extra for features like call holding, call display, and call forwarding, most VoIP providers include these features in their product, meaning you don't have to pay extra for the features you need.
Easy to set up
With most VoIP connections, there's no need to install switching boards or phone connections. Some systems can be installed easily by downloading an app to your computer, while others might require that you install an adaptor that converts voice signals into digital signals using your existing phones. These adaptors are small and in most cases all you have to do is plug the phone's cable in before plugging the adaptor into an Internet connection socket.
More than just voice calls
Many VoIP programs also allow for chat capabilities, video calls, video conferencing, and even screen sharing. Not only that, but you'll be able to see if your employees are available through presence technology, as well as giving them more ways to stay connected.
Highly flexible phone systems
VoIP systems allow you to do far more than is possible with traditional phone technology. You can:
Take your phone system with you: As long as you have access to a broadband connection you can use your VoIP system anywhere.
Talk on your laptop: Many VoIP systems include telephone software that enables you to send and receive calls using a headphone unit connected to your computer. This helps eliminate the risk of you missing an urgent call when you're on your laptop.
Receive voicemail and faxes via email: Many VoIP services allow you to have voicemail and faxes forwarded to your email inbox. You then receive all your messages in one place, and your voicemail and faxes can be easily archived or forwarded.
Have virtual phone numbers: Your phone number can have any available area code, meaning you can have a business based in one place but can have a phone number with a different area code; advantageous if your business has, or wants, customers in specific areas.
Increase productivity: Many VoIP phone numbers can be configured to simultaneously ring on multiple devices, such as your cell and landline phones. This eliminates time-consuming phone tag. According to a recent survey conducted by Sage Research, the increased productivity enabled by Internet telephony added up to 3.9 hours per week, per employee.
No matter what industry you operate in, VoIP is a surprisingly flexible, affordable, and continuously evolving technology. Interested in implementing a VoIP system into your company? Contact us today to see what we have to offer and how we can help.