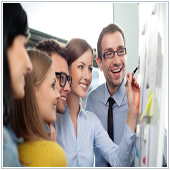 One of the best parts about a vacation is capturing shots to be shared with loved ones. Whether it's a group photo, scenic views or a memorable moment. In business, you might want to preserve photos of a special corporate event such as an exhibition, training session or important visit. Sharing your photos just got a whole lot simpler thanks to the introduction of Google+ Stories and Movies. So what exactly is this feature and how does it work?
Google+ Stories is a mobile Web application which automatically weaves your photos, videos and places you've visited through Google+ into a stunning montage when you use the auto upload and backup feature. No more sifting through photos for the best shots or racking your brain for the sights you saw, Google+ Stories will automatically do away with out-of-focus images and use geo-tags to figure out where each picture was taken.
The next time you unpack after a trip, Google+ Stories will do all the work to help tell your story. Whether you're looking to create a personal memoir or a business story about the development of your latest product, Google+ Stories is equipped for the task.
The Google+ Movies feature automatically produces a highlight reel of your photos and videos, including effects, transitions, and even a soundtrack. You can now tell the tale of your business or create a promo video for a product or service yourself. Google+ Movies adds the finishing touches that your videos may lack.
Both Web applications are available for Android and the Web, but as of the writing of this article, iOS users will have to wait a little longer.
How to use Google+ Stories and Movies:
If you don't have a Gmail account you must first create one.
For those with a Gmail account, visit here and click on Upgrade.
Download Google+ Auto Backup here and click on Preferences to turn Auto Backup on so that your photos can be synced automatically from your computer. Note that Auto Backup is available for desktop on both Windows and Mac as well as on Android and iOS mobile devices.
Back up your photos and videos to Google+.
When your Google+ photos and videos match certain criteria, Auto Awesome copies them, leaving the original file intact and creating another version of your photos and videos made with add-ons like wide-screen panoramas or even short animations.You'll get a notification when a story or movie is ready.
You can also create your own visual account by:
Uploading photos and videos onto Google+ by hovering over the Home menu on the upper left corner and clicking on Photos.
Clicking on Upload photos on the navigation panel and clicking Share.
Backing up photos to the cloud is now becoming essential for many. With Google+ Stories and Movies, it's even easier to bring corporate and personal moments to life. Interested in learning more about using Google's products and services in your business? Call us today for a chat.