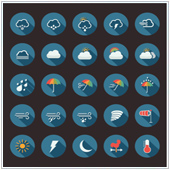 Historically the months of June, July, and August are when the vast majority of natural disasters strike. Regardless of your location, there is a chance that your business could be facing a real challenge if something bad happens. In order to limit the potential damage a disaster can create, it helps to be proactive and introduce a disaster strategy. One essential element that you might find useful is utilizing your mobile device, and looking at the benefit of disaster apps.
Both Android and Apple mobile devices offer a wide variety of apps that users rely on daily. Because of this, these devices have become an integral part of our lives and would no doubt be on hand if disaster struck. The upside to this is that there are apps that can help you and your employees whatever the disaster. Here are four of the best types of disaster related apps you and your colleagues should download in order to prepare.
Weather apps
It is always a good idea to know what the weather forecast is for your local area. This can help you predict what could happen and even prepare your business should say a big storm be rolling in. There are a wide variety of weather apps out there and it can be difficult to actually pick which is the best to use. We recommend:
The NOAA Weather Radio – Available on iTunes for iPhone and iPad users, this app is the official app for the National Oceanic and Atmospheric Association. When installed, you can receive local weather forecasts based on your location and storm or severe weather warnings pushed directly to your device. The app can be found on iTunes and costs USD$3.99
Weather Underground – This app is among the most powerful weather apps out there. Using a wide variety of weather stations and user submitted weather it is up to date and able to offer accurate forecasts. With a Weather Radio feature, and push notifications of weather alerts, you can easily track potential storms. There is also the WunderMap which has radar, reports and IR Sat views as well. The app is available for free on Google Play and iTunes, and is rumored to be coming soon for Windows Phone.
Local weather apps – Many TV stations and weather organizations have localized weather apps that focus on just local conditions. If you live in a disaster prone area, it would be a good idea to see if your local TV station has a weather app, as this could be the quickest way to receive updates.
American Red Cross apps
The Red Cross has a number of excellent survival oriented apps that could really come in handy for when a disaster strikes. These apps provide tips on how to prepare yourself and your family, as well as buildings for disaster, and what to do during and after a disaster strikes.
The best part is that most of the information is available offline, so you will have access to it even if cell networks are down. Some of the apps even provide weather alerts that will sound even if the app isn't open, alerting you about any impending danger.
These apps are all available for free on Google Play and iTunes. The best thing to do is to visit the Red Cross website and look for the apps that are relevant to your local area e.g., if you are in the mountains the Forest Fire and First Aid apps may help. The apps are all free and can be downloaded by clicking the links for your device's app store on the Red Cross site.
Social media apps
Social media services could prove to be a good way to connect and communicate during a disaster. Try setting up a group for your employees to communicate and encourage them to use it when a disaster strikes to share information and enact plans. One of the biggest added advantages to using social networks is that the servers that host the service are located around the world, so the chances of the service being down is fairly slim. If you have Internet access, you will be able to access the service.
It would be a good idea to define which social network you want to use and establish your pages and connections ahead of time. Have each employee sign up for and join the group you have created and also download the app onto their mobile devices.
Google Public Alerts
Google Public Alerts is the company's alert platform that allows for the distribution of emergency messages and notices like evacuation notices, public alerts, and storm warnings. For users in the U.S., Australia, Canada, Colombia, Japan, Taiwan, and Indonesia alerts will appear in Google Searches, Maps and if you are an Android or iOS user, from Google Now.
Mobile users who have Google Now installed should see relevant alerts pop up when something happens. While you won't see alerts for absolutely everything, Google does a pretty good job at broadcasting useful information. On mobile devices, these alerts will usually pop up in your Notifications Center where they are easy to see.
To get these notifications on your Android device, you will need to download the Google Search app and activate it on your device. You can find it for free on the Google Play Store, and on iTunes. Android users can also download the Google Now Launcher which will add Google Now to your device's home screen, and can be accessed by swiping to the right from your Home Screen.
Tips for using your mobile during an emergency
Here are six tips to help you leverage your mobile device during a disaster.
Install relevant apps – In order to be prepared, you should install the apps necessary to communicate during a disaster, along with a weather app and if necessary a survival app.
Ensure your contacts are up to date – To be sure, you should periodically update your contacts. Should anything happen you will know how to contact people and have a higher chance of being able to get in touch.
Ensure your employees have devices that work – Even if you don't allow mobile devices in the office, or employees to use their own devices, it would be a great idea to ensure that your employees have devices that are in working order so should they need to contact you, or vice versa, you will have a better chance of being able to.
Establish procedures to follow during a disaster – This is arguably the most important preparation you can do. Take the time to establish procedures you and your employees should follow during an emergency. Include where people should meet, backup plans, contact suggestions and the roles you expect your employees to take.
Keep your batteries topped up – Mobile devices rely on batteries to operate, and during a disaster you may be without a power source for an extended amount of time. Therefore, Minimize use during a disaster. Ensure your batteries are full, or charges as often and has high as possible.
Invest in a good power bank – Power banks are useful tools that are essentially big batteries. You can charge them up then use them to charge your devices. Take a look for one that is at least 9000 MHZ, or higher. The higher the number the bigger the charge.
If you are looking to learn more about using mobile devices during a disaster, or how your company can prepare, contact us today. Learn about our services and how we can help.