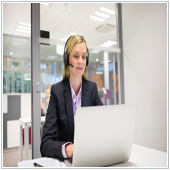 Implementation of a VoIP solution can offer businesses many tangible benefits. However, without proper management and IT support for VoIP solutions, you could see a negative impact on your productivity. You may experience limited communication from both customers and employees, especially when it comes to mobile or remote workers. The challenge is how you can expand your VoIP capabilities to become effective on-the-go.
To benefit from the positives that VoIP can bring to businesses it is necessary that VoIP works with the reality of your business needs. When it comes to catering for out-of-office workers, there are a variety of ways you can help expand the mobility of your VoIP services.
1. Look into Unified Communications
If your employees are able to bring their own personal mobile device to work, your IT administrators likely rely heavily on users complying with your company's policies. It is up to you to establish good security and compliance measures in order to meet the needs of both your customers and employees.
A solid solution is to look into Unified Communications (UC), which integrates real-time communication services such as instant messaging, telephony, data sharing, and video conferencing. In other words, UC helps bridge the gap between VoIP and other computer-related communication technologies, as well as help control presence, a status indicator that conveys willingness to communicate and single number reach.
2. Employ easy to use apps
Believe it or not, most top-rated business apps began as user-focused tools to help people find data more independently. Some of these apps have transformed into more customized tools to keep focus on specific business needs. The one problem with this is that satisfying these needs often sacrifices overall usability. If your employees are struggling to use the mobile version of your VoIP solution, then they likely won't.
What this can lead to, especially when a mobile solution is required, is use of unauthorized apps. The problem then is that this can lead to an increased security risk. To avoid this, try implementing an app or tool that is easy to use, easy to navigate and easy to manage.
3. Work with an experienced solution manager
When looking to expand existing VoIP solutions, or implement new ones, it can be tough to actually manage the solution and ensure that it works when you need it to. One of the best ways to achieve this is to work with an IT partner like us. The perk to outsourcing management of a solution to us is that you can have us get your apps and solution set up and then take over administration of your mobile services once his is established.
4. Cloud support
Having on-premise equipment and support for your VoIP solution is a good idea. However, the problem here is your existing IT team may not be ready for the challenge of providing cloud-based mobile app or voice support. We recommend you go for a hosted VoIP solution, which delivers the same cost-effective, network-based service but where the equipment is based at a provider's site rather than in your data center. This eliminates the cost of on-premise gear, maintenance costs, and overall management, while increasing the overall effectiveness of your mobile solution.
Expanding VoIP mobile capabilities can enhance business productivity by effectively keeping both your customers and employees in contact with your business more easily. If you're interested in learning more about VoIP solutions, don't hesitate to contact us today.