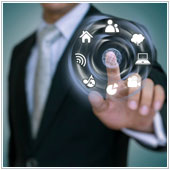 It's undeniable that work gets done faster and easier with help from cloud-based apps. It can be difficult, however, to find the right apps that work for your business. Whether you want to create online documents, share calendars or even make video calls, Google Apps for Business is designed to help. This cloud-based tool could become a valuable add-on to your business success and productivity.
What is Google Apps for Business?
Google Apps for Business is a range of cloud-based productivity apps divided into four main groups or functions: communicate, store, collaborate, and manage. The apps all focus on integration for maximized productivity; which means keeping your team connected and of course giving you the access to work from anywhere.
Communicate
A company that lacks communication is a company working in the dark. But with apps like Gmail, Google Hangouts, and Google Calendar; no longer will you have to be worried about issues of work slipping through the cracks.
Gmail – Gmail for businesses features storage starting from 30GB, automatic backup, spam protection, and multiple email addresses, and is available on both the iOS and Android operating systems. Whether you want to create labels, prioritize your Inbox or even read and draft messages without connection, Gmail's got your back. Or, if you're thinking about migrating from another platform, Gmail has powerful migration tools to ensure a quick and easy process.
Hangouts – Connect face-to-face from anywhere with Hangouts, a high definition video conference app that allows up to 15 participants in one call and comes with built-in screen sharing, which allows you to see any file from a participant's screen; perfect for presentations. External parties can also join Hangouts even if they don't have Google Apps account. Never miss out on important meetings again even if you're far apart. To go even further, Hangouts also includes instant messaging which is handy for internal communication.
Calendar – Plan less and do more with Calendar which easily lets you set up meetings and appointments from Gmail to your calendar. You can also share documents and create group calendars directly from events as well.
Store
Wouldn't it be nice if you could do away with external hard drives and storage devices and have your work accessible no matter where you were? With Google Drive you can do exactly that and more.
Drive – Keep all you work in one secure place and access it from anywhere. Featuring 30GB of storage space, upgradable up to 16TB, Drive lets you upload, share, edit, and even download any type of documents while automatically syncing these to your computer. This means you'll never have to hit save again. Not only that, but you can also view over 40 popular file formats without having to buy extra software to open them.
Collaborate
Work faster with more hands involved. Without the right platform though, this is easier said than done. Now with apps like Google Docs, Sheets, Slides, and Sites, collaboration has never been easier.
Docs – Create and edit text documents right in your browser. This app supports co-editing, meaning multiple people can work on the same document at the same time. It also comes with security functions such as document access control and add-ons like mail merging and advance editing. As an added bonus, if you use Google Chrome, you can enable the ability to edit documents offline and have them sync the next time you connect.
Sheets – Lets you create and share spreadsheets, charts, and pivot tables even without an Internet connection. Multiple people can do real-time editing, as well as create surveys or questionnaires with built-in forms. You can also easily convert other spreadsheets with the original file structure remaining intact.
Slides – Draw charts, diagrams, and make presentations with Slides. Equipped with practical functions like co-editing, as well as working without Internet connection, you can get ready for your presentation at any time.
Sites – Brings content together under one roof by letting you easily create a wiki for your team or customers without writing a single line of code. Simply create a new page and fill in the information as you would in any document. This is a great way to quickly establish and share a centralized information source e.g., a FAQ.
Manage
Being the backbone of an organization can be quite a handful. But with the right apps. along with good integration, you can do away with the nasty headaches of account management and backup.
Admin – Manage Google Apps for your organization with the Admin feature. Whether you want to add users, manage devices, and set groups or restrictions, you can do so with just a few clicks while being sure all your data is kept safe.
Vault – An archive for emails and chats, Vault manages, retains, searches, and exports your organization's emails and chat records, making sure nothing gets lost.
While there are many cloud-based apps available online, opt for the wrong one and you can face lost productivity and increased expense. Google Apps may just be the best tool for your business. If you are looking to learn more about this service, contact us today.