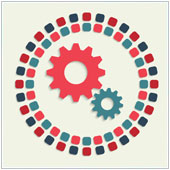 Android tablets are proving to be valuable tools for business, with an ever increasing number of users. Many of these productive Android users also utilize Google Apps such a Docs and Sheets, which can be found in Drive. In an effort to make these apps even more useful, Google has introduced standalone versions of the popular Drive apps.
A tiny problem with Google Apps
While the number of companies using Google Apps is certainly on the rise, there is a slight issue with the way the office productivity apps are set up. In order to access them on your mobile device, you have to first either open Drive in your browser or open the app. From there you can access the different files and open and read or edit them.
If, for example, you want to create a new spreadsheet, you have to open the Drive app and then create the spreadsheet on there. While this setup is great for many users, if you are a heavy user of Drive, and want to find this spreadsheet later on down the road, you are possibly going to have to search for it in Drive, potentially wading through hundreds of files.
This makes the productivity suite on mobile devices like tablets slightly less efficient, and could extend the time you need to take to work on a project. To many tablet users, this is counterintuitive to the main reason people use tablets in the first place – the device and the apps are meant to speed up work or at the very least accelerate efficiency.
Google's solution
Google has realized this issue and set out to fix it. Their simple solution was to create standalone versions of their popular productivity apps. What this means is you can now download the Docs, Sheets, and in the near future Slides, app. Opening each individual app will show all of your related files.
When you open the Docs app, for example, you will be presented with a list of all of your Docs, with the last opened or edited at the top. At the top of each app is a menu bar. Pressing the magnifying glass will allow you to search for a Doc while the other buttons rearrange the viewing order of your files.
Press the file folder and the folders on your Drive that contain Docs (if you are in the Docs app) or Sheets (if you are in the Sheets app) will be displayed. Finally, pressing the plus sign will allow you to create a new file. The files that you open using this app can be read and edited just as they would be in Drive.
The best feature of these apps
While these apps are ideal for mobile users, the best feature of the standalone versions is that support for offline creation and editing of files is built in. This means that if you aren't connected to the Internet, you can still open the app and create a new file or even edit existing ones. This is regardless of whether you have selected them to be available offline from the browser or mobile version of Drive. If you open the app, it should update all documents automatically to their last backup.
Where can I get these apps?
The apps are currently available for free on the Google Play store. You can find the Docs app here, and the Sheets app here. Keep your eyes peeled for the Slides app, which Google has noted will be out soon.
Looking to learn more about Google's mobile products? Contact us today to see how we can help.