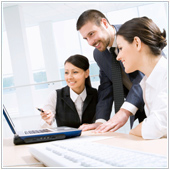 Office 365 offers a good range of business plans and they come packed with valuable features to fit every business size and need. While Office 365 might be ideal for businesses, the decision then rests on choosing the best plan to help you reach your goals and conquer greater business heights. Not sure which plan to select? This guide aims to help you make the right decision.
The world can't seem to get enough of the options that Office 365 offers. However, the variety of subscription plans can challenge your decision-making skills. Arming yourself with good research and knowledge allows you to gain more confidence in making wise business choices. You are off to a good start by reading about this article's comparison of the different Office 365 subscription plans.
Choosing the right subscription should start by identifying your business size. Whether you are running a small enterprise or a business empire, Office 365 has the subscription plan to fit every business need. In Microsoft standard definition, a business with 1-10 employees is considered small-sized. A medium-sized business has between 25-300 employees. Anything beyond is deemed to be a large-scale enterprise.
Office 365 for small businesses
If you anticipate having more than 25 employees in the near future, it is highly recommended to skip to the medium-scale subscription. If you are certain about your business size and you don't have plans to expand, you can choose from two small business subscription plans.The Office 365 Small Business has all the standard features as follows: hosted email, Web conferencing and hosting, spam protection, 24/7 phone support, guaranteed uninterrupted service, SharePoint and file management via Web browser. The other subscription plan is The Office 365 Small Business Premium which comes with three additional functions on top of the standard features, namely the ability to download desktop versions of office applications, site mailbox access and mobile functionality.
Office 365 for midsize businesses
For medium-size businesses with up to 300 users there is a plan that has all the inclusions of the Small Business Premium Plan but provides reinforcement for your business IT infrastructure through better management of user permission credentials. If your business uses a huge chunk of Excel spreadsheets, this plan is for you as it has the Excel add-ons, with Power Query, Powerpivot, Power View and Power Map from multiple sources. In addition, this plan also includes a desktop version of Microsoft Office Professional Plus 2013.
Office 365 for large businesses
The high rollers in the business realm can choose from three plans, namely E1, E3 and E4. E1 has more or less the standard features of the Office 365 Small Business Plan and can support an unlimited number of users, plus it has the feature of user credential management, Yammer integration and access to a site mailbox. With E3 and E4 you can install the desktop version of the office applications. The only difference is that E4 has call capabilities via Lync Online calling, which is ideal for companies in countries where there are no VoIP prohibitions.
There are a lot of productivity tools in the market today and it can be a challenge to choose between the sea of options. In the realm of business, critical thinking should be observed, whether for small or big decisions, as any one of these choices could impact the success and productivity of your business. These decisions can range from low-impact, such as deciding which productivity tool to use for your day-to-day business functions, to high-impact, such as your long-term business plans.
Choosing the right productivity tool to use in your business needs to be taken seriously as this can take create a lot of difference. A good productivity tool makes a better organized work style and this can only mean a business that is easier to manage.