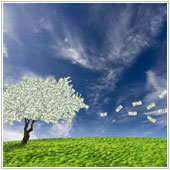 Cash flow is the lifeblood of every business. It's pretty straightforward – you need to keep cash flowing into the business to cover your expenses like payroll, rent and materials. While it may be straightforward, it's not easy.
As your company grows, manual systems can really slow down the processes that directly affect cash flow. Printing and mailing invoices once a week delays payments in and takes employees away from revenue producing activities. Hours spent calling past due accounts instead of sending out automated reminders wastes valuable time.
By automating systems and consolidating data through an ERP system, you can get cash in the door faster to support the expenses that you need to pay. An ERP system that integrates all departments, allowing you to:
Get invoices out the door more quickly. How much lag time is there between service delivery and billing? When service techs are connected to ERP through mobile devices in the field, you can bill the customer before the truck leaves the driveway.
Identify problem accounts. Track collections over time to keep tabs on accounts receivables and be proactive with slow payers.
Streamline supply chain processes and inventory management. Keeping inventory levels minimized with just-in-time practices will help you reduce the cash tied up in excess stock.
Optimize purchasing to keep inventory right-sized. Through better forecasting and inventory management, you can make better decisions about purchasing. Track turnover and match buying trends to optimize stock on hand.
Automate processes so you can grow without adding more employees. An ERP system allows you to manage more transactions without having to hire more people. For example, automate the collections process, sending reminders to past due accounts based on predefined rules. Employees will have to call far fewer accounts for payment.
Support contract and subscription billing. Many businesses are finding monthly maintenance contracts are a popular replacement for expensive annual payments. Are there new services that you could offer through a subscription model? Automated billing and collection processes will augment and streamline cash flow.
Have better insight into cash position. Through the consolidated data delivered by an ERP system, you can monitor current and future cash flow. With an understanding of cash position over time, you can take proactive steps to affect receipts and payments. Make smart decisions across your business ‒ from marketing and inventory to customer credit limits, discounts and payment terms ‒ to bring down costs and turn margins into cash.
Growing companies need to keep the cash flowing to take advantage of opportunities and overcome challenges. Outdated accounting systems force your people to spend time on manual processes that slow cash down as well as limiting your view into cash flow. Let's talk about taking your business to the next level with better cash management.