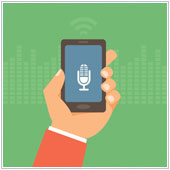 Almost annually, Apple releases an update to their popular desktop Operating System – OS X. Many of these releases implement new features, or improve upon existing ones. One example of this is the dictation feature which is presented in all new versions of OS X. This can be a useful feature for slow typers and business people who are referencing many materials or find it easier to speak their thoughts.
About Enhanced Dictation
Last year, when Apple released the latest version of OS X – Mavericks, they also introduced improvements to their dictation feature. By enabling this, you can dictate your thoughts on a number of different apps. For example, you can dictate a memo on your word processor, or dictate search terms on your browser. In older versions of OS X, you needed to have an Internet connection in order to use this feature, but with the new update you can now use it offline too.
Through its offline availability, Enhanced Dictation becomes a partner in accessing your desktop and going through files on your Mac device. This assures you that wherever you are you can still be efficient even if you are offline. Below are some guidelines on how to enable and use continuous dictation on Mavericks.
Turning Enhanced Dictation on
Go to your Mac's System Preferences, then to the Dictation and Speech section. The dialog box will show you several preferences, tick On and check Use Enhanced Dictation to utilize offline services and continuous dictation. You have to be connected to the Internet in order to enable this feature because you will need to download the application first.
Language and disk space requirements
The required disk space for the content download depends on the language you choose to use. This feature supports several languages. Depending on the frequency of usage, Enhanced Dictation adjusts to your accent and trains itself to understand your voice better through its character. To eliminate confusion with accents, you can choose among several dialects from the Language drop-down list. Some languages, such as English, have several dialects to choose from.
Continuous dictation advantages
Continuous dictation allows your system to show the words you utter live on your display window. This does not have a specific time limit like its predecessor, but stops automatically once you hit Done, press the function key or switch to another window.
Using dictation in other Mavericks applications
To be able to use dictation with other applications, click on a text field and press the function (fn) key twice for the dictation shortcut. You can also choose Edit, followed by Start Dictation and speak the commands you want it to input in the text field.
Using microphones
Your device has a built-in microphone but you can opt to choose a supported external microphone should you prefer to be heard clearer even in a softer tone. With this option, you have to go to the Dictation and Speech section of your Systems Preferences and change the input device to microphone.
Text commands
Another feature of the Enhanced Dictation system is its ability to understand several text-related commands, such as punctuation marks, emoticons, typography, currency, capitalization and word commands, including new paragraphs and tabs, among others.
With the continuous advancement of Apple's programs and services more businesses are opting for high-performing Mac devices than other device in the market.
If you are looking to learn more about OS X and how it can fit into your organization, contact us today.