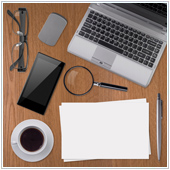 Behind every successful business lies strong back-end support. Having the right people in your business is vital, and being equipped with high quality hardware sets the stage for smooth operations. If you're not sure which hardware is essential for your business, not to worry, we'll take a look at five essential pieces of hardware that could improve your business productivity without compromising ease of use.
The desktop or laptop computer
The computer has quickly become the workhorse of almost every business, without which most modern businesses would likely not be able to operate. Whether operating a multi-user workstation, laptop or a desktop, investing in a reliable computer will surely save you from stress and sweat.
When looking for a computer for your business, You're likely going to use a computer for your business for at least three to five years, so go for one that requires low maintenance. Many businesses opt for a reputable choice, like a Mac, or a PC running Windows. Many of the bigger name brands are known for their friendly user interface and minimal upkeep. For those looking for one with portability, try a laptop or ultrabook.
Regardless which system you choose, you need to ensure your new computer is compatible with your existing software and systems. The last thing you want is to invest in us a brand new machine and have to spend even more on new software or hardware updates.
Mobile devices
If you're constantly on-the-go, having a trusty mobile device can be like having a personal assistant. Think tablets, e-book readers or even smartphones. Not only are these devices easy to carry around, but a lot of them are equipped with useful work applications and specifications that are capable of performing tasks you would usually accomplish using a computer. Many business owners find that the versatility of a mobile device compensates for its cost.
When it comes to mobile devices, there are three main systems businesses have to choose from:
Android – Owned by Google, you will find a wide variety of devices suitable for any need.
iOS – Owned by Apple, offers reliable products and a wide number of apps for your business.
Windows Phone – Owned by Microsoft, these devices are most suitable for offices that utilize Microsoft's other services. This is largely due in part to the deep integration between systems.
Laserjet printers
Not every business uses a printer but even if your business is one that encourages a paperless work space; investing in a durable laser-jet printer can save time and energy. At some point you will need to print, whether that is a contract, documents or image files.Some laserjet printers are also equipped with a scanner, photocopy and fax function. With a price tag starting from approximately USD$100, having one in-house beats needing one any day.
Wireless routers
Broadband modems are an integral part of any Internet-connected business, but get your hands on a wireless router and you won't look back at cables again. Not only does a wireless router keep your office connected to the Internet without cables, it also acts as an Internet splitter, meaning all your devices can be connected from anywhere within router range. Not only that, but most modern wireless routers come with built-in firewalls as well as the ability to limit a network to computers you trust, which means more safety for your computer.
Network servers
While personal computers are capable of acting as a network server, a dedicated server will give you the advantages of faster CPU (Central Processing Unit), high-performance memory and increased storage capacity. A good network server solution can effectively support your database, email applications and other files, as well as provide comprehensive security and backup options.
We recommend talking to a specialist to make sure you are buying the right package for both current and future needs. An IT partner like us can be a huge help in selecting, implementing and managing a comprehensive network solution.
Hardware is available in every market and the sheer amount can make choosing the right solutions difficult. However, once equipped hardware can enhance workflow as well as results.
Looking to learn more about hardware and network server solutions? Contact us today.