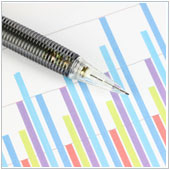 In business, it would be great if we could tell what the future holds. And although we can't predict 100% for sure what will happen, businesses do have a set of tools at their disposal that can help foretell more than a wild guess. The most popular forecasting tool is predictive analytics. While it is employed in many organizations, small business owners are beginning to look into it too.
What is predictive analytics?
Before looking at why businesses might want to implement this type of analytics into their operations, it's worthwhile defining what exactly predictive analytics is. Simply put, predictive analytics is a form of business intelligence that focuses on combing existing information for patterns and useful data that can then be used to make predictions on future outcomes or to identify trends.
It is important to stress that this form of analytics does not tell you what is going to happen. Instead, it is used to figure out what might happen. Think of it as similar to a weather forecast for your business – meteorologists can never tell you what the weather will be like over the next week, they merely use the data they have at their disposal to forecast what the outlook is likely to be in the next few days.
The vast majority of companies who apply these analytics to their business often do so to gain a better understanding of their customers, partners, and other stakeholders. From this they can better identify possible risks and opportunities.
Five reasons to use predictive analytics:
Compete better – Companies who use predictive analysis can generally compete smarter. This is because they can leverage existing data to figure out why their customers choose them. By doing the same, you can then focus on highlighting your strengths. This is especially useful if you have some quality strengths to play with.
Work out how to better meet demand – If utilized effectively, you can predict with some accuracy the level of demand for your products, including sales of specific items at certain times, and high/low times for customer visits. From here, you can schedule deliveries or staff to ensure products and staff will be available.
Exceed expectations – While forecasting customer demand is important, what really keeps customers returning is when you exceed their expectations. One of the best ways to do this is by offering products or services the customers need them; or even before they need them or know they do. By understanding customer buying habits you can develop individualized campaigns that focus on their upcoming needs; offering useful products and/or services.
Increase efficiency – Analyzing your existing data can help predict when you may have supply issues, or where production problems may crop up when launching a new product or service. With this warning system in place you can take steps to limit any negative repercussions or make provisions to guard against a predicted problem. This then can help increase overall efficiency.
Better able to reach clients – By first tracking customer touchpoint data – when did they contact you and how – you can then use this data to forecast when your customers will be looking at social media, more willing to read an email you send, and even when they might be more willing to talk with you on the phone.
These are just a few of the reasons businesses use predictive analytics in their companies. If you are curious to learn more about how to create success for your business and the technology systems that support and allow you to utilize predictive analytics, contact us today for a chat.