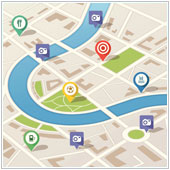 If you have your own business, it is important to have your information searchable online. Even if you don't have your own website, it's still possible for you to do so with the help of Google Places for Business. Sign in to Google Places with your existing Google account or quickly and easily create a free account. Start creating your business listings so people in your neighborhood can find information about your business when they perform a search on Google.com or Google Maps.
Benefits of using Google Places for Business
If you are not using Google Places for Business yet, now is the perfect time to sign up and give your business presence a big boost. Places offers various benefits to business owners:
It's free and easy to use
There's nothing to lose since this is a cost free application. It's also simple to use so you don't have to be tech savvy to be able to use it. A free Google account is all you need to log in and start creating your business listings. Businesses who use Google Apps can use their email addresses to establish a presence on Places for free as well.
Connect with millions of people who use Google
Many people use Google.com and Google Maps when searching for new businesses or an answer to their problems. Your listings on Google Places will be included in results when users search for your business or for keywords that are relevant to your listings. This gives you better online exposure, which is what you need to attract more customers.
Even if you don't have your own website, you can still be found on the Web using this application. This is beneficial, especially for those just starting out or small businesses who don't yet have the budget for their own website. Businesses with websites can further enhance their online presence.
Manage your listings anytime, anywhere
While using your computer, you can view and edit your listings by going to the Google Places for Business site. You can do this even while on the go with the use of the Places mobile app. The app is also available for free, though businesses in some locations are not yet supported as of the time of writing. They can still use Google Places through a browser however.
How to create a listing
Creating a Google Places listing is easy. Sign in using your existing Google account, or Google Apps admin account to start the process. If you don't have one, create a free account to begin using Google Places, as well as other Google services and apps.
Log into any Google Service e.g., Gmail, with the email address you would like to use as a contact and to manage your account. If you have a Google Apps account, you should use the contact that is designated as the main administrator.
Go to the Places for Business site (google.com/businesses/placesforbusiness/)
Click Get started for free.
Follow the steps to verify that you are the owner of the business. This will include adding information about your business and locations. You will then be asked to verify your listing.
Enter the information needed and you'll be asked to verify the listing. Verification options include phone, SMS and postcard. Whichever of the three options you choose, you will be sent a PIN that you can use to verify the listing in Google Places.
Be careful when entering the verification PIN. Entering an incorrect PIN five times will prevent you from verifying that listing. You must remove it from your account then create a new one that you will need to verify.
If you already have an account, and would like to add another business you can go to the Google Places site and log in. From there click Add new business and search for your business in the tab that pops up. If you don't see it, click Add a new listing and fill out the basic information. You will then be asked to verify the information by postcard or SMS.
It is best to fill in as much information as possible in order to get the most accurate listing. Once you verify your account and business, your business should show up on Google Search and Google Maps results within a couple of weeks.
If you would like to learn more about Google Places for Business or any of Google's other apps, please contact us today.