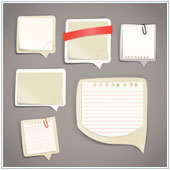 OneNote is a popular application developed by Microsoft as part of the Office suite. As a standalone version it is available for free on various platforms, including the iPad, Mac, Windows, Android, and iOS devices. It allows users to create notes and supports inserting images, photos, web clippings, audio files, and more into files. Accessing and sharing notes is more convenient with OneNote.
If you are looking for a powerful note program, OneNote has some great features.
Access and edit notes anywhere
Windows PC, Mac, iOS, Android, and Windows Phone all support OneNote. Install the appropriate version and you can access your notebooks from any of these devices. Previous versions require that you manually sync your notebooks to make them accessible on all devices. However, with the latest version this is no longer required as your notes are automatically synced on your OneDrive. This means you can view and edit them anywhere where you have an Internet connection.
You can access notes on your mobile device that you originally created on your computer. If you have access to a computer that does not have OneNote installed you can easily find the application on the Web. If you go to OneNote's page on the Web you can log in to the account linked with your installed versions of OneNote and use as you normally would.
Organize data in notebooks
OneNote is a great tool for organizing different data and files. You can create various notebooks that contain information on specific subjects. For instance, you could create a notebook for personal use, a notebook containing client information, etc. Each of these notebooks can then contain various sections with color coded tabs, making it easy to organize files.
This feature is helpful, especially if you are working with a large volume of data. Searching for specific information or data is also straightforward with a convenient search function. You can simply type your keyword in the search field and wait for the result. Click on your chosen result and you will be taken to that particular note.
Third party integration
The latest version of OneNote also has a new cloud API that allows third party applications to be used. This allows users to enjoy more features, as they are not just confined to the features that are native to OneNote. One of the apps that you can use is OneNote Clipper. Install this on your browser and use it to automatically save clippings from the Web in just one click.
Work on important tables
Tables are often used for creating databases or for comparing and listing data. Creating tables in OneNote 2013 is more convenient as it now allows you sort data within a table, designate header rows, as well as change the color of the cells. You can also insert an Excel spreadsheet into your notes.
Write handwritten notes
If you are using a touch capable device you can write notes or draw using a stylus or your fingers. This is especially helpful for jotting down quick notes or reminders about what to insert on a page. Circling or underlining a word or group of words is quick and easy to do.
Organized data and files are easy to access, which is vital when you need this information at your fingertips. OneNote keeps data in order so you can easily find what you need when you need it.
Find out how OneNote and other tech innovations and updates can support your business productivity. Get in touch today!