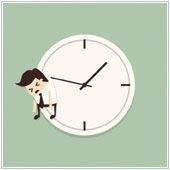 In a surprising move, the House of Representatives approved a bill that includes a delay to mandatory ICD-10 implementation until October 2015. After the announcement we are sure that many medical practices breathed a long sigh of relief.
The problem: Without a fix to the Sustainable Growth Rate (SGR) formula, Medicare physicians face a 24% reimbursement cut beginning April 1. This is obviously something that does not sit well with many of the country's medical practitioners – and rightly so. No one wants to see hard-earned profits sink because of a medical bill.
Joseph Pitts introduced a bill, H.R. 4302, that proposed to replace the reimbursement cut with a 0.5% payment update through the end of 2014 and a 0% percent payment update from January 1 through March 311, 2015.
The American Medical Association, which wants payment stability for its constituents, responded by urging House of Representatives members to vote down the proposed legislation. The code sets were caught in the crossfire.
Note: Before the ICD-10 delay takes place (and the SGR fix becomes permanent), the Senate must vote on the proposed legislation and President Obama must sign it into law. It would be a good idea to keep abreast of this issue because it will likely directly affect your practice.
If you are looking for help upgrading to ICD-10, or ensuring your practice meets established standards, contact us today to see how we can help.